Cash boost for Scottish ambulance fleet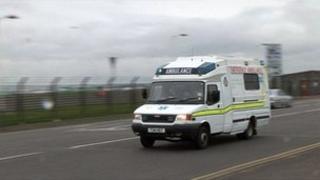 The Scottish Ambulance Service is to be given more than £34m to replace nearly 600 of its vehicles.
The Scottish government said the money would pay for 326 new accident and emergency vehicles, including paramedic response units.
The cash will also fund nearly 250 new patient transport and support vehicles.
Health Secretary Nicola Sturgeon said the move would allow the ambulance service to "provide the very best care".
The ambulance service will receive £34.3m for the vehicles over the next four years.
Ms Sturgeon said: "Our hardworking ambulance staff do a fantastic job and are out 365 days a year saving lives.
"They cannot do this without a modern, up-to-date mix of vehicles that allow them to provide the very best patient care to the people of Scotland."
Scottish Ambulance Service chief executive Pauline Howie said it was essential that its crews operated with the most appropriate equipment.
"The funding for our vehicle fleet ensures that care continues to be delivered in ambulances that are fit for purpose and specifically designed to meet modern healthcare standards," she added.