Law Commission calls for Scots trials to hear of prior convictions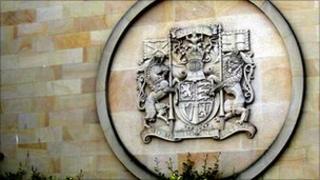 Prosecutors should be able to use previous convictions as evidence in Scottish trials, according to the Scottish Law Commission.
In a report, the commission concluded that Scots law should be changed as evidence of this kind can be highly relevant to guilt or innocence.
England and Wales already have rules in place which allow previous convictions to be taken into account.
The commission said that the current Scots law lacked "logic and coherence".
As the law stands, the prosecution in a criminal case cannot rely on previous convictions to help prove their case against an accused person.
The thinking is that they are presumed innocent until proven guilty - and that might be undermined if past crimes were presented as evidence.
Scottish juries are only told of past crimes after a guilty plea or conviction.
However, the Scottish Law Commission said that was illogical.
Patrick Layden QC, the lead commissioner on the project, said: "Evidence of how the accused has acted on another occasion is relevant to whether he has acted in a similar way in relation to the offence with which he is charged.
"It does not become irrelevant because he has been convicted on that other occasion. This report, if implemented, will ensure that the jury can consider all relevant information."
The commission also noted that until the late 19th century previous convictions were routinely admitted as evidence.
Its report included a draft Bill which, if implemented, would replace the present law with a new statutory framework for the admission of all relevant evidence in criminal proceedings.
But one of Scotland's leading lawyers warned that changing the law could lead to people being convicted for what they have done in the past rather than what they are charged with at present.
Derek Ogg QC told BBC Radio's Good Morning Scotland programme: "People aren't charged with their previous behaviour, they are charged with the specific facts of a specific crime.
"Everyone goes into court with the presumption of innocence, everyone goes in with a clean sheet."
Mr Ogg said there were already some circumstances in which an accused person's previous convictions could be put before a jury, including in cases of sexual offences where the character of the victim was attacked.
'Less protection'
He said the Scottish Law Commission was "made up of people with great minds and great academics, but people who do not conduct trials in the High Court on a daily basis".
He said that in examining the issue they had "come up with an academic response which really does not meet reality".
Mr Ogg said: "You can not say to a jury 'ladies and gentlemen I'd like to introduce you to a skunk, now please ignore the smell'."
He added: "I've spent the best part of the last five years prosecuting sexual offences, prosecuting people charged with rape.
"I've never had a single case where I've felt the need to go to previous convictions in order to get a conviction in a case where there is sufficient evidence.
"Really all we want in Scotland are fair trials, and a fair trial means you have to have a presumption of innocence."
The report is the third of three projects commissioned by the Scottish government in November 2007.
It will be up to ministers to decide whether to go ahead with the change, but the recommendations of the first two projects - on Crown appeals and double jeopardy - have already been passed into law.
SNP MSP Stewart Maxwell, who highlighted the issue of previous convictions following the trial of serial killer Peter Tobin in England in 2010, said: "I am very pleased at the outcome of this inquiry and hope that the government will be able to change the law as soon as possible.
"Victims in Scotland must not be getting less protection than they do in England.
"It makes no sense not to have all the relevant evidence available in the prosecution of serious crimes."
Scottish Labour's justice spokesman Lewis Macdonald welcomed the report's recommendations, adding: "To ignore the criminal history of a serial rapist or violent offender goes against what most people would call justice.
"We simply can't afford for victims of crime in Scotland to be left behind those elsewhere in the United Kingdom."
Liberal Democrat justice spokewoman Alison McInnes urged caution over a blanket change in the law.
"Stating prior convictions or referring to bad character may mar the fair and proper legal process we have in Scotland", she said.
"These proposals, taken together with Lord Carloway's recommendations on ending the need for corroboration, could really call into question the impartiality of our justice system."