Fergus Muirhead answers your consumer questions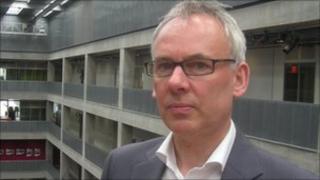 I'm Fergus Muirhead and I'm here to answer any questions you may have about any money or consumer issues.
Please drop me a line here at fergus@bbc.co.uk with your questions.
You can also read more on money and consumer issues on my own blog .
Q. I wonder if you could give me advice on two issues. I work 17.5 hours as a Practice Nurse and have recently started working 12 hours for NHS 24. My total hours are still less than a full time position. I am being taxed on Code BR for my NHS 24 position and wonder if this will be a permanent code as this is a second job, or if it should be re-assessed. I commenced employment at NHS 24 on 23/1/12. Also my daughter worked for Next and Argos in temporary Christmas posts and was taxed on her earnings for Argos as she recorded on her form that she had another job. The Next position was for 4 hours per week and the Argos one for 7 hours per week. Her total earnings were approximately £500 for the two jobs. I have tried on several occasions to contact HMRC but have been unable to get through to anyone. Could you give me advice on what I should do?
A. If your income as a Practice Nurse is more than your personal allowances less any other untaxed income, then a BR code would be correct. The standard personal allowances rate for 2012/13 is £8,105. If income is less, then it does need to be reassessed and you would need to contact HMRC directly (phone, write or call at local tax office). As for your daughter, has she sent her P45 from both jobs to HMRC? If not, she should do so with a covering letter, telling them that she had no other jobs or income in the tax year 2011/12 and asking them to issue a refund. If this has already been done, she would have to give them time to process this (and this might take about 8 weeks at least), thereafter she would have to phone to chase this until she receives her refund.
Q. I retired from my employment as an administrative officer on 4th December 2011, my 60th birthday, and started receiving my civil service pension on 14th December. At the beginning of this year I received a tax return which I duly completed and sent off to HMRC. I then received a letter from them stating that my tax code for the year 2012/13 would be BR, which I have since found out is an emergency code. I have received my P60 and it shows my monthly pension for April as £670.15 gross and the tax being deducted as £134 and thereafter from May as £679.47 gross with tax being deducted as £135.80. As I have no other employment and will not receive my state pension until July 2013 due to government legislation, I feel that this a bit excessive. Is there anything I can do?
A. If the civil service pension is the only income for 2012/13 then you should be on a normal code against this pension. However, do you have any savings/investment income that would reduce the code? You should write to HMRC and also complete form P161 which you can download from HMRC website, send this to HMRC and ask them to issue a new code for 2012/13. Once the new code is applied to your pension, it will correct the cumulative tax position and where too much tax has been deducted in previous months it will be refunded through an increased pension payment in that month.
Q. We currently have a mortgage with Lloyds, it was fixed at 5.09% for five years and earlier this year reverted to their standard variable rate or SVR of 2.5%. Do you think that Lloyds is likely to increase their SVR from the current level of 2.5%? If they don't increase their SVR should we stay as we are or fix for say three years at a higher interest rate plus arrangement fee? David Ellis
A. The simple answer to this question is I don't know, and I'm not being rude in saying that! Interest rates in general can't go down much further and are more likely to go up. It's just that we don't know when or by how much, so the cost of loans is likely to rise at some point in the future as well. It comes down to how much of a gamble you are prepared to take - and that in turn might come down to how much of an increase in mortgage payments you would be comfortable with. If you have a bit of slack in your budget you might be quite happy paying less now in the knowledge that you might have to pay more at some point in the future. If money is tight then it might make sense to fix your payments now, costing you a bit in the short-term but allowing you a bit of security in knowing what your payments are going to be for the next couple of years.
Q. I have a 19-year-old learner driver daughter (student) and wish to put her on my car insurance. My own insurer won't consider her as she is under 25 and I don't know where to start looking as there are so many insurers out there. At the moment I have a fully comprehensive policy with maximum No Claims Discount. Can you offer any advice? Morag Steedman
A. I am really surprised that I don't get many more emails about this one. I know from talking to people with children who are learning to drive that it is a big issue, and it doesn't go away when they pass their tests because then the problem becomes one of finding reasonably priced insurance for a new driver. There are two issues - the age of the learner driver and they type of car that you as a parent own. I know that many insurers just will not insure learner drivers at all for some cars. I was talking to someone recently whose son couldn't understand why he couldn't be insured on his mother's policy 'because she's only got a wee mini'. It wasn't the fact that it was a Mini; it was the fact that it was a Mini CooperS that was causing the problem. In some cases it might be worthwhile buying another car to teach your daughter in, but that can be costly as well. You need to speak to a couple of brokers who have experience in insuring your drivers - there seem to be several online if you search for 'learner driver insurers' or something similar. This is one of these questions that has no easy answer I'm afraid. Please drop me a line if you're reading this and have any experiences of reasonably priced insurance for learners of young drivers.