London 2012: Olympic saltire flag ban lifted for Hampden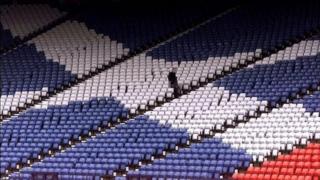 The saltire flag will be allowed to fly over Scotland's national football stadium during the London Olympics, games bosses have confirmed.
The move came after they previously said it could not be flown over Hampden, which is hosting some Olympic 2012 football matches.
Scottish athletes represent Great Britain at the Olympic Games, under the banner of the Union Flag.
The Welsh dragon will also be allowed to fly at Cardiff's Millennium Stadium.
A spokesman for the London 2012 Organising Committee said the move had been backed by the International Olympic Committee.
Hampden is holding eight London 2012 football matches.
The original restriction did not apply to fans attending games at the stadium.