App to celebrate 'Queen of Scots'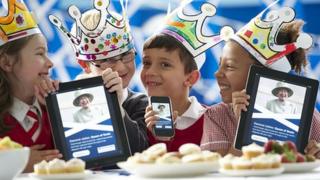 A free app has been launched which celebrates the milestones of the Queen's reign in Scotland.
The Queen of Scots app offers video footage and rare images of some of her most memorable visits.
It was launched by the Scottish government as Diamond Jubilee weekend celebrations began across the country.
First Minister Alex Salmond said it was an innovative way to bring the history of The Queen's reign to a modern digital audience.
Mr Salmond also announced that the people of Scotland could help shape the app by suggesting their favourite memories of her visits for inclusion in future updates.
He said: "The Queen has given Scotland 60 years of unparalleled service, and the Jubilee weekend will offer the people of Scotland a fantastic opportunity to celebrate that service and reflect on Her Majesty's reign.
"During her time on the throne, The Queen has been a particular friend to Scotland, and her many memorable visits have offered a wealth of fabulous memories for Scots of all ages."
Mr Salmond said the app offered exclusive images of the Queen's official visits to places such as Iona, Melrose and Shetland, as well as video and pictures of high-profile events such as the reopening of the Scottish Parliament in 1999 and the visit of the Pope in 2010.
He added: "The app is an exciting mix of the traditional and modern, and gives people an innovative way of learning about Her Majesty's reign in this country.
"I hope it helps people in today's modern, digital Scotland celebrate the Jubilee and commemorate the wonderful service offered to them by their Queen."
Queen of Scots is available for free download at the Apple iTunes store.
It can be found by entering "Queen Scotland" in the app store.
The app will be updated after the Jubilee to include images of Royal Week in Scotland, as well as selected other memories of the Queen's reign suggested by the Scottish public. Suggestions can be made by e-mail to info@scotland.org.