EIS teaching union may ballot for strike action over new exams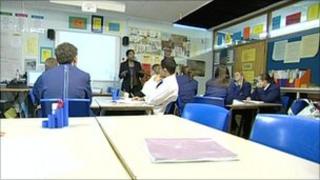 Teachers will be asked to consider striking unless new school exams are delayed by a year.
The call will be put to members of Scotland's largest teaching union, the EIS, at its conference in Dundee.
It follows concerns that some schools are not prepared for the national 4 and 5 examinations, part of the new Curriculum for Excellence.
An audit published last week by Scottish government agency, Education Scotland, said most schools were ready.
The exams are scheduled to replace Standard Grade and Intermediate qualifications from 2013-14.
One local authority, East Renfrewshire Council, has previously said it will postpone their introduction by a year.
Education Scotland carried out an audit of the progress being made in moving to implement the new exams.
It concluded schools were on track to be introduce them on time.
Teaching unions claimed the survey was "a whitewash" because many rank and file teachers were not consulted.
Delegates at the EIS annual general meeting in Dundee later this week will debate whether to ballot for industrial action, up to and including strike action.
The motion has been tabled by the union's Renfrewshire and South Lanarkshire local associations.
It states: "(We agree) that this AGM instruct Council to enter into negotiations with the Scottish Government and local authorities to secure a national delay of one year in the implementation of the new National 4 and 5 examinations.
"Where a delay cannot be agreed this AGM call for an immediate ballot for industrial action up to and including strike action."