Some schools 'not seeking' exam help, union claims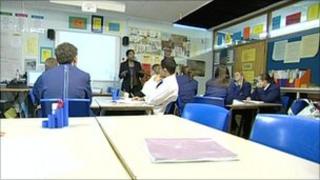 Some schools needing help to prepare for the new Scottish curriculum may not be seeking it, teachers leaders have claimed.
The warning comes as members of Scotland's largest teaching union the EIS hold their annual conference.
Delegates in Dundee will discuss 67 motions, with cuts in education a key issue being raised.
EIS leaders say they are concerned over a diminishing number of classroom assistants and college lecturers.
Teachers suspect more cutbacks over the coming year, with some stemming from the McCormac review of pay and conditions.
Negotiations under way focus on making the working week more flexible, a move which some believe could lead to a heavier workload and a requirement to carry out tasks such as marking in the school building rather than in the evening at home.
Outgoing EIS president Alan Munro told delegates the message from the Scottish government was that only a small number schools were in "difficulty" and wanted help with the new Curriculum for Excellence.
Mr Munro claimed: "This help comes with a sinister threatening tone and with the promise of 'deep audit'.
"As expected this approach has not encouraged self-identification by the many schools and departments who we know require the additional resources."