EIS members vote against industrial action over new curriculum exams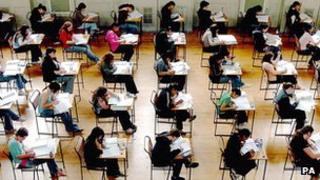 Members of Scotland's main teaching union have voted against taking industrial action over exams linked to the new curriculum.
Delegates at the EIS union's annual conference debated a call for schools to delay the introduction of the national 4 and 5 exams by a year.
However, teachers agreed to allow more time for a £3.5m Scottish government support package to take effect.
An EIS survey indicated a "significant" number of schools were not ready.
But the government has said it believes any issues surrounding the implementation of the exams, which are due to replace Standard Grades, can be dealt with.
EIS delegates, meeting in Dundee, decided to wait and see if the support measures being put in place make a difference before considering whether to take the radical step of moving towards a ballot on industrial action.
'Catastrophic failure'
The union said the widespread view in the profession was that the more flexible new curriculum was a good thing.
However, it said that a significant number of schools needed more time to introduce the new exams.
Hugh Donnelly of the Glasgow branch accused the Scottish government and local authorities of "a catastrophic failure to engage teachers and a catastrophic failure of communication".
But he was among several speakers against the motion who argued that the union had to honour its side of an agreement forged just two months ago with the Scottish government.
This agreement resulted in a £3.5m package of support measures, including extra training days.
Former EIS president Helen Connor asked: "How would a ballot on industrial action benefit our young people?
"How would it leave us with any credibility over pay and pensions?"
Children's progress
But Bob Fotheringham, from the Glasgow branch, said the present confusion in schools over the the new curriculum and exams made a year-long delay essential.
He said delaying a plan for industrial action would be "like closing the barn door when the horse has bolted".
The Scottish government welcomed the decision to reject industrial action.
A spokesman said: "We are fully committed to working closely with teachers, schools and unions to provide additional support where it is needed to ensure the successful delivery of the new national qualifications, and our recent agreement with the EIS on CfE will underpin that."
One local authority, East Renfrewshire Council, has previously said it will postpone the introduction of the new exams by a year.
The curriculum requires teachers to draw up most of their own lessons and work out how best to assess children's progress.
A survey carried out by Scottish government agency Education Scotland indicated that problems with the new exams were patchy but surmountable.
Education Secretary Mike Russell has said there is no justification for wholesale delay.