Monsignor Stephen Robson becomes Scotland's newest bishop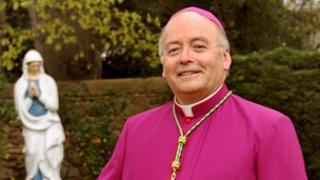 Stephen Robson has become Scotland's newest Catholic bishop after being ordained at St Mary's Cathedral in Edinburgh.
He is now the Auxiliary Bishop of the Archdiocese of St Andrews and Edinburgh and assistant to Cardinal Keith O'Brien.
Monsignor Robson has served under Cardinal O'Brien for almost 30 years.
Among the guests at the mass were the Vatican's ambassador to the United Kingdom, Archbishop Antonio Mennini.