Health secretary Sturgeon considers target to reduce patient bed moves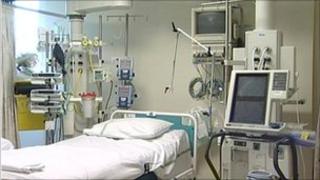 Scotland's Health Secretary Nicola Sturgeon said targets could be brought in to reduce the number of times a patient is moved in hospital.
Her comments came in light of a Royal College of Physicians of Edinburgh survey suggesting patients were routinely taken from specialist wards.
The practice, known as boarding, typically happens in winter.
Ms Sturgeon told BBC Scotland she was would discuss the issue of targets with the Royal College (RCPE).
She has said she would ask the Chief Medical Officer Sir Harry Burns to meet doctors representatives to discuss the matter.
The college's online survey was completed by 21% of the Royal College's members - some 290 doctors and consultants.
It was conducted between 22 and 30 May, following approaches from a number of hospital consultants concerned at the level of both admissions and boarding in their areas.
Dr Neil Dewhurst, RCPE president, said: "While we believe there has been a steady increase in the number of patients with medical conditions admitted to hospital across Scotland, the number of hospital beds for acutely ill patients remains under significant pressure and the number of consultants has not been increased to respond to this demand.
"In most hospitals, consultants have no alternative but to move patients on to other wards where they will receive less specialised care and which often results in delays to their care.
"There is strong evidence that this reduces quality of care for patients and increases their length of stay.
"Boarding, in effect, creates a vicious circle, delaying treatment and discharge for patients and adding considerably to the workload of the healthcare teams caring for them."
Dr Dewhurst said the survey indicated that boarding was becoming the norm on a year-round basis.
"We believe this is poor practice, places patients at risk and is unacceptable," he added.
Ms Sturgeon said she took "very seriously" the concerns of the college, and that "there is no doubt that we would want to eliminate boarding from the health service".
She told BBC Radio Scotland's Good Morning Scotland programme: "Scotland is the first government, certainly in the UK, that has dealt with boarding, does some very serious work to both understand and tackle the issue of boarding on a national basis and we have got a senior A&E consultant in Forth Valley that is leading that work for us.
"It is obviously an issue that involves the entire hospital system and it is important that it is tackled on that whole system basis."
"One of the things we have been discussing, before this report, was the issue of setting a particular target for health boards in future years to reduce boarding and that is also something that we will be happy to discuss with the Royal College."
'Drastically cut'
Opposition politicians have criticised the government over the survey's findings.
Jackson Carlaw, the Scottish Tory health spokesman, said a Scottish government report published last year admitted that the practice of boarding led to a greater likelihood of death within 30 days of discharge.
It also showed that moving patients from ward to ward also put them at a greater likelihood of being re-admitted as an emergency within 30 days and resulted in longer inpatient lengths of stay in hospital, he said.
And Labour's Jackie Baillie said she had "previously warned the SNP that if they drastically cut the number of beds and the number of nurses then the price will be paid by the patients, and these findings are further proof that this is now happening."
Scottish Lib Dem health spokeswoman, Alison McInnes, said: "The health secretary needs to take this warning seriously and review what is going on."