What does the voice of the Finnieston Crane sound like?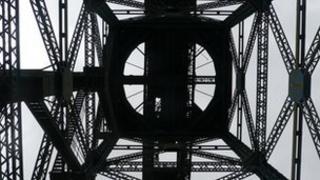 I've done some strange things in pursuit of art but none stranger than pressing my ear to a steel strut of the Finnieston Crane listening out for its "voice".
Sound artist Bill Fontana knows what he's looking for.
He's spent the last decade making sound installations around some of the world's most iconic buildings.
From the Arc de Triomphe to the Golden Gate Bridge, he's recorded sound and created installations.
The sound is captured on super sensitive recording equipment, the sort normally used in industry to test the strength of bridges or planes.
The result, in the case of the Finnieston crane (officially the Stobcross Crane but known better for its location) is a deep, low hum as the wind creaks through the metal struts.
Bill and his colleagues have spent the morning placing similar microphones at various points on the structure - giving different sounds at different points of the crane.
'Buddhist bells'
He'll then gather the sounds, and a series of photographs, and create an installation at a yet undecided location in Glasgow in the spring of 2013.
It's the first music commission from Glasgow UNESCO City of Music and they're hopeful it'll give them the same level of international attention Bill Fontana's other work has achieved.
So what does the voice of the Finnieston Crane sound like? Low, sombre and heavy is my summation. Perhaps a little sad, too. Bill reckons I'm reading too much Glasgow knowledge of shipbuilding and Clydeside heritage into it.
"It's reminding me of Japanese Buddhist bells I worked with once. Slow, calming, also no longer in use. I hear the Finnieston crane in the same way."
Listen very carefully. He may just be right.