New campaign to reduce Scotland's re-offending rates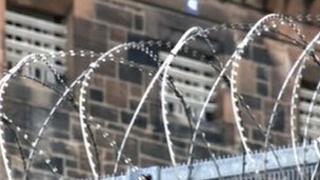 A new campaign has been launched to reduce Scotland's high level of re-offending.
A DVD made by a man who has served five prison sentences will be shown in public for the first time on Monday.
The documentary featuring Allan Weaver, who is now a probation officer, aims to change attitudes to offenders.
It promotes "desistance" - a new concept in criminal justice, which suggests those who commit crime can be helped out of reoffending.
Mr Weaver, who went straight 30 years ago, admits prison is necessary to punish offenders, but says it does little to turn lives around.
He now uses his experiences in Barlinnie and other Scottish jails to argue that prison is not always the answer.
Razor blade
Visiting Barlinnie Prison's A Hall, he said: "I was first processed through this very hall as a 15-year-old child.
"A lot of people talk about prison - is it about reform and rehabilitation? If I think about my own experience, my answer to that would be: 'Never.'
"Within this very prison, I learned how to make a weapon from a razor blade and toothbrush; I was told how to break into specific cars; I was shown how to dismantle basic shop alarms."
Glasgow University produced the DVD, The Road from Crime, as part of a research project into reoffending rates.
Government figures suggest that of all those released from prison, 57.9% are reconvicted within a year.
Fergus McNeill, professor of criminology and social work at Glasgow University, said prison could actually be cause of this problem.
"Prison is not an ideal environment for becoming more mature. Responsibility is taken away in prison - decisions are made for you," he said.
"Prison is not a good place to develop positive social ties; in fact, it tends to break up and damage positive family relationships and force you into relationships with others with similar problems."
This view is shared by Phil Bradley, who was sentenced to nine years in jail for armed robbery, and trained in prison as a literacy and relationship counsellor.
He has returned to Kilmarnock Prison to offer support to offenders and their families in providing a stable life outside, away from crime.
"I see results at the personal level," he said.
"Of the people that I've been looking after since my release last year, none of them has gone back into custody."
He admits the lives of the offenders he has worked with may be no easier.
But he maintains that through his example of giving up crime, he is demonstrating there is a choice available when they think there is none.
"If they're not getting back here, that's got to be worth something," he said.
Campaigners say the DVD backs their call for the Scottish government to make more resources available to help those who have already given up crime steer offenders who are still in the prison system away from further crime.