Nick Nairn's father: 'Garlic is work of the devil'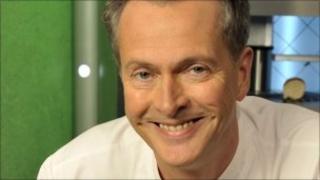 Celebrity chef Nick Nairn says his father thinks garlic is "the work of the devil".
The 53-year-old cook says his father Jimmy only eats "plain food" and would never allow onions, garlic, spices or herbs in his meals.
Nairn, who was talking on BBC Radio Scotland's Meet the Parents programme, said it was only when he travelled the world in the merchant navy that he first tasted exotic foods.
Jimmy Nairn, Nick's dad, was brought up on a council estate in Kirkintilloch, on the northern outskirts of Glasgow.
He says he "hated school with a passion" and left at 15 to work in a shipping office in Glasgow where he "blossomed" and rose to be a shipping agent.
However, at the age of 25, Nairn senior opted for a complete change of career and went to drama school.
He went on to work at the Citizens' Theatre in Glasgow and did shifts as a BBC announcer on the side.
When Scottish Television (STV) began in 1957, Jimmy Nairn claims his voice was the first on air.
He says: "Arthur Montford and I were hired on the same day.
"I think somebody said Arthur thought he had been the first one but I was taken to London with Geraldo's orchestra and they recorded these station idents and they went out before anything else. So technically I was first."
The STV job gave Jimmy Nairn enough money to get married and his father-in-law helped the newly-wed couple by finding a house in the countryside for them to live in.
Jimmy said he was looking for "some old cottage that we could do up".
"He found us Lochend, which is 40 acres and more bedrooms that I ever managed to count," he says.
Lochend, near Lake of Menteith in the Stirlingshire countryside, was where the chef grew up and is now home to Nick Nairn's Cook School.
The chef, who has been a regular on TV programmes such as Ready Steady Cook and Masterchef, says his childhood was "idyllic" but he was always "driven" to achieve in the way that his father had.
As well as the celebrity status Jimmy Nairn had from appearing on shows such as The One O'Clock Gang, he also ran a shipping business, which he later sold to P&O.
He walked away from the high-profile business world to concentrate on his family and Lochend, where he built holiday chalets to replace the caravans which had been part of the estate when Nick was a child.
Nairn remembers the dining table experience being very important when he was young but, while his mother was a great cook, the food was not adventurous.
No spicing
Nick says: "I'm sure part of my desire to cook was that I was brought up with very plain food.
"We had great food because we always had pheasant and salmon and venison, but no spicing.
"When I tasted food which had more dimensions to it, it was the thing that ignited a passion that still burns today."
Jimmy says: "I really honestly believe that people who eat garlic do it to spite me. It is the work of the devil."
Nick joined the merchant navy at 17 and was on the way to being the master of a 40,000 tonne vessel when he announced he was going to be a chef.
He says: "My love of food came from my time travelling in the navy. The first time I tasted Satay in Singapore, it was exotic, it was astonishing, I had never tasted anything like it.
"I used my time in the navy to have an amazing array of eating opportunities. I taught myself to cook on study leave. When you are 23 you can do what the hell you like."
A few years later he opened his first restaurant and set off towards emulating his father's success.
Meet the Parents: Nick Nairn is on BBC Radio Scotland at 14:05 on Tuesday 26 June .