Call for Scottish 'cash for gold' standard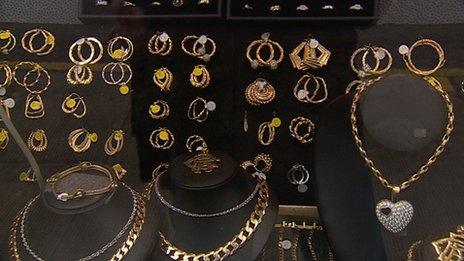 "Cash for gold" companies in Scotland should adopt consumer protection measures similar to those in England and Wales, it has been claimed.
The call comes from Citizens' Advice Scotland (CAS) after BBC Scotland found some people were being exploited.
A voluntary code of conduct, known as the "Gold Standard", has been introduced south of the border.
Retailers abiding by it are placed on an online public register run by the British Jewellers' Association.
Following evidence gathered through a covert shopping exercise by BBC Scotland Investigates , Citizens' Advice Scotland wants the code to apply in Scotland.
Sarah Beattie-Smith, from CAS, said: "It certainly sounds like it's some good practice coming in there to England and we're absolutely up for seeing a code of conduct here as well.
"Obviously the problem with a voluntary code of conduct is you are never quite sure if people are going to sign up for it, but it can give consumers that bit of confidence.
"You know, if you walk into a shop, for example, or you visit one of these websites and it says we are signed up for this voluntary code of conduct and these are the rights that it gives you, then that gives you that bit more confidence to buy with them."
Amongst the "good practice protocals" the code recommends that a customer's gold is weighed in front of them.
Evidence gathered by BBC Scotland showed that almost half the retailers failed to do this.
For gold trinkets valued at £103 the BBC obtained offers ranging from £50 to £90.
The findings are in line with complaints received by Citizens' Advice Scotland.
Some of the other measures contained in the code include retailers:
Recording the name and address of every customer
Authenticating the seller through photo ID
Taking precautions to ensure that the gold is not stolen and establishing its provenance.
CAS head of policy Susan McPhee said: "Over the last few years we've all seen the growth of these companies who offer you cash in return for your unwanted gold trinkets.
"There are lots of these companies now, advertising on TV and by direct mail.
"Many of them are offering a fair, legitimate service, and for people who need to get their hands on cash quickly it can seem like a very enticing option."
She added: "Unfortunately, we have seen a number of cases recently which show that some of the companies are in fact scamming their customers - either by under-paying them or by imposing hidden fees, and in some cases simply stealing the gold and refusing to pay the agreed amount."
The voluntary code is also backed by the National Pawnbroking Association, National Association of Goldsmiths, and Association of Chief Police Officers (England & Wales).
The code was introduced following concerns from police forces in England that gold jewellery was being stolen and then being sold for cash.
As the price of gold has soared over the past five years one police force noticed a sharp rise in jewellery thefts.
Consumer organisations hope that the code will not only reduce gold theft, but it will also ensure that those selling gold will not be exploited.
Related Internet Links
The BBC is not responsible for the content of external sites.