Homeless applications in Scotland fall by 19%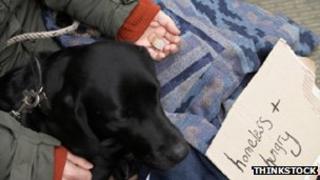 The number of people applying to councils in Scotland because they have become homeless has fallen by 19%, according to government figures.
South Ayrshire and Midlothian were the only council areas which registered an increase in the year to April.
A National Statistics report said there were 45,322 applications.
It said the fall in applications was mainly due to homelessness prevention strategies adopted by most councils over the past few years.
The decrease in applications was not due to changes in the "underlying" reasons for people becoming homeless, it said.
About 73% of priority homeless households secured a local authority, housing association or private let as an "outcome". This was unchanged from 2010-11.
'Real difference'
The Scottish government has set a target that, by the end of 2012, all unintentionally homeless people will be entitled to settled accommodation.
The statistics showed there were 10,743 households in temporary accommodation - a decrease of 5% on the previous year.
There were 3,484 households with children in temporary accommodation, down 9%.
Housing Minister Keith Brown said: "These substantial and welcome figures are further encouragement that our innovative approach to tackling the blight of homelessness is working and making a real difference.
"This reflects the commitment shown by local authorities and their partners to move to a focus on prevention rather than just reacting to people becoming homeless.
"We will continue to drive forward that process to ensure that we can continue to make real reductions in the number of people being made homeless in Scotland."
The Housing (Scotland) Act 2001 requires councils to provide a minimum of temporary accommodation, advice and assistance to all applicants assessed as homeless, regardless of whether they have been assessed as being in priority need.