Bright ideas in the workplace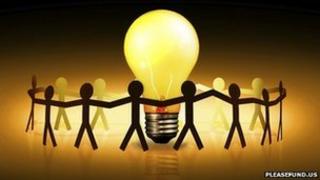 While some debate Scotland's future in or out of the United Kingdom, what of Scotland's future in or out of business?
Two futures were being debated this week, as the 'Better Together' campaign launched its campaign against constitutional independence.
The other drew on the latest findings of an in-depth survey into entrepreneurial activity.
It could be at least as significant in shaping Scotland's future.
I've been posted missing from both - instead on a mission to the Isle of Skye, where I've been hearing from entrepreneurs who face some big challenges not only from finance, but from distance to market, costs of fuel, supply disruption and from a highly seasonal tourist economy.
I've learned about hotels that are finding bank lending very tough - not because of their business performance, but because the bank has simply decided to revalue the hospitality business in general, pulling finance out in the process and forcing sales.
Some small businesses are thriving nonetheless, often by co-operating with each other.
The most innovative idea I found was with the most basic of commodities - drying sea salt in polytunnels, for sale to tourists and in up-market delis.
More next Sunday on the Business Scotland programme on BBC Radio Scotland at 10:00.
Cup of TEA?
In recent years, the entrepreneurial report from the Hunter Centre at Strathclyde Business School has been a grimfest, underlining one of the abiding weaknesses of the Scottish economy.
The latest one is more upbeat. The intention to set up in business has risen to the heady heights of the rest of the UK. Total early-stage entrepreneurial activity (the TEA-rate) has picked up.
And while entrepreneurs have high status, they don't set much of an example. It's still seen as a good career choice by less than half of us (the international comparisons offer some interesting glimpses of other cultures: the 'poor career choice' view is almost off the scale in Japan).
The reasons may not be hard to find. In a downturn, lots of people are facing redundancy. In the current labour market, becoming self-employed is as much necessity as career choice. Pay-off cheques help the process.
Obstacles to do so are odd. Perhaps you can explain why Scots are far more likely than people across the UK as a whole to say that finding staff for a start-up is a major obstacle.
The reverse is true of know-how. Some 28% across the UK say they wouldn't know how to set up in business, but it's only half that rate in Scotland.
Likewise, Scots have come over all confident on the 'fear of failure' factor. Other parts of the UK are more fearful, consistently so in Northern Ireland.
Innovative workers
But what about entrepreneurial activity by those who are already employed?
Dig into this year's report, and you find some interesting observations for businesses and employees on what happens to those with bright ideas who take them to the boss.
There's quite a reasonably high level of belief - as good as the whole UK, anyway - that bosses will back good ideas if they're brought forward.
But in Scotland, there's a noticeably low level of activity in following up. That's particularly true of small businesses.
Is it that Scottish employees don't have bright ideas, or they're shy about bringing them forward? Don't they want the hassle/opportunity of being asked to make the ideas work?
And how can employers change that, to ensure that innovation is encouraged and brought on within a company?
This research doesn't answer that question, but it does point to one startlingly big gap in the workforce when it comes to in-house innovation.
Male employees are nearly five times more likely than their female colleagues to be involved in putting new ideas into action.
Because men are five times more likely to have the ideas in the first place?
Or because it's men who get asked by bosses?
There's a wide gender gap also in enterpreneurial attitudes in general, with women just over half as likely to be engaged in early-stage start-up activity. But for in-house innovation, the gap is a big opportunity for employers and for women to do better.