Teen pregnancy rate in Scotland falls but misses target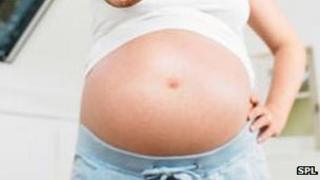 A target set by the Scottish government to reduce teenage pregnancies has been missed, although the rate has fallen for the fourth year in a row.
In 2010 the number of pregnancies in under-16s was 7.1 per 1,000 girls - narrowly missing the aim of 6.8 per 1,000.
NHS Fife had the highest teenage pregnancy rate for both the under-16s - at 9.2 - and under-18s - at 47.7.
The highest rate for under-20s was in NHS Ayrshire & Arran at 59.7 per 1,000.
Scotland has a higher rate of teenage pregnancy than most other western European countries.
The newly published statistics show progress was made in the older age groups.
The Scotland-wide pregnancy rate among under-18s dropped from 37.3 per 1,000 in 2009, to 35.9 per 1,000 in 2010, and among the under-20s, from 52.9 per 1,000 to 50.2 per 1,000.