Verdict on 'not proven' sought from Scottish public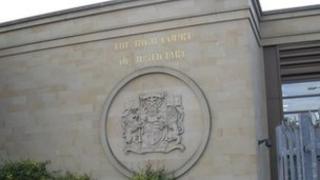 A consultation has been launched on whether Scots law's "not proven" verdict should be abolished.
It is organised by the Labour MSP Michael McMahon, who wants to bring a Bill before the Holyrood parliament.
It is the second time he has attempted to have the verdict - a form of acquittal - abolished.
The consultation will also seek views on whether the majority of jurors required for a conviction should be increased.
It is an historical accident that Scots law has three verdicts, guilty, not guilty and not proven.
But the effect on the accused is that he or she is either convicted or acquitted; not proven, famously called by Sir Walter Scott "that bastard verdict", has exactly the same effect as not guilty.
Suspicion persists
Nevertheless, the suspicion has remained that not proven indicates the jury had doubts over the defence position.
Mr McMahon, who represents Uddingston and Bellshill, said reform would help make justice simpler, clearer and fairer.
"This exists purely by accident of history and it seems to me illogical, inconsistent and confusing," he said.
"This is compounded by juries not being allowed to be told, prior to considering their verdict, the implications of finding the case against a defendant 'not proven'."
There have been a number of high-profile cases involving a not proven verdict, dating back to 1857 when a Glasgow heiress, Madeleine Smith, was acquitted of charges that she had murdered her lover, Pierre Emile L'Angelier.
The late Donald Dewar introduced a Commons Bill to abolish not proven in 1969, and there have been several subsequent attempts, including one by Mr McMahon in 2007 which received the backing of Scottish Labour.
In 2010-11 5% of trials ended in acquittals - and of them just 16% were not proven verdicts.
During the 2007 consultation, the Law Society of Scotland questioned the need to reform the three verdict system.
But it said if the third verdict were to be abolished, the two remaining would be "proven" and "not proven" since it was up to the Crown to prove its case beyond all reasonable doubt.
Mr McMahon said he recognised abolition of the third verdict available to juries should also mean a review of the majority required for a conviction - currently eight from a 15-strong jury.
He said a higher threshold - perhaps 10 - would be more appropriate.
A spokesman for the Scottish government said: "We note this consultation, and that a Member's Bill may subsequently be introduced to the Scottish Parliament.
"The Scottish government will consider any Bill carefully if and when it is introduced."