Big Debate: A rumbustious TV rammy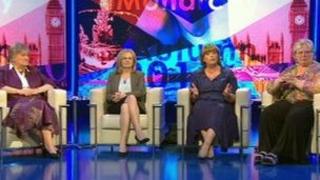 It was on the telly - but the Big Debate I hosted this evening on BBC One Scotland bore all the classic characteristics which I have come to recognise and cherish from my weekly wireless outings.
A large, lively audience; an excellent panel; discursive conversation mingled with a rumbustious rammy.
Lots of issues arising: the future of welfare provision, either within the Union or under independence; the economy; a challenge to Labour over their alliance in this cause with the Conservatives; a challenge to the SNP over their strategy.
Watch if for yourself. But, if you will forgive me, I might draw attention to one issue in particular which is attracting attention at this relatively early phase of the referendum campaign. Early, that is, if we presume that the ballot will be in 2014. Which I do.
That issue is the content of the referendum itself. Will there be one question or two? If one, what will that question be? If two, what is the second question? If a pair of questions, are those two in competition with each other or in sequence?
And whom does a second question mandate? It might be said that a vote for independence mandates the Scottish government to open negotiations with London. But where does the mandate lie in a question setting out more powers - which would fall to be implemented by Westminster - if the UK government has not agreed to the inclusion of such a question and disputes the detail?
Main camps
These are not remotely minor matters or points of terminology. They define the nature of the contest - and currently divide the two main camps.
On my programme tonight, the supporters of the Union - Margaret Curran and Annabel Goldie - argued very vigorously that there should be a single question.
Fiona Hyslop from the SNP argued, equally vigorously, that the issue should not be determined before the Scottish government had a chance to assess the many thousands of responses to its consultation on the ballot.
It would be wrong, she implied (with support from sectors of the audience), to exclude an option which might be sought by a substantial proportion of the Scottish population. Margo MacDonald argued with comparable energy that it was a mistake to include a second option to her favoured ambition of independence.
Where might this be going? There are now significant mutterings, both at Holyrood and Westminster. Significant in that they come from people who are players in the debate, on both sides, and that they are growing steadily louder.
On the Nationalist side, Ministers are adamant that they are justified in pursuing the second option or at least examining the extent of popular support.
The UK government has offered to transfer powers to Holyrood to hold a legally binding referendum - provided the terms are agreed in advance. If that is to happen within the Scottish government's scheduled timetable, it would apparently require to be endorsed by the Privy Council by February next year at the latest, following scrutiny in both Houses at Westminster.
It does not need primary legislation - as a transfer of powers can happen within the provisions of the founding Scotland Act. So there is a bit of time - although not much - in which to reach agreement.
Range of options
Scottish Ministers say: give us the power - but without any strings. UK Ministers say: no, if we are to legitimise this ballot - which we want to do - then we must be afforded a say over the shape of the referendum. And that means a single question.
Which leaves a range of options - and the current speculation as to motivation and outcome. Option one: UK Ministers agree to an unfettered transfer of power. Extremely unlikely: UK Ministers say the Scottish government has a mandate for a referendum on independence. Just that.
Option Two: the Scottish government agrees a deal in order to guarantee its referendum against legal challenge. Possible: Scottish Ministers could turn this into a campaigning point, arguing that they wanted a wider remit on the ballot paper but were prevented from doing so by their Unionist opponents. Already, one hears Scottish Ministers saying this might be an incentive for some to support independence.
Option Three? The Scottish Government opts to hold its own plebiscite - with a second question but without legal underpinning from Westminster. Also possible: although this would risk a challenge in the courts from an aggrieved citizen.
Option Four? Scottish Ministers declare that the entire process is now fatally undermined by what they categorise as Westminster interference. They call a halt to the referendum project. Feasible but unlikely: it would attract catcalls from the Unionist side but, more influentially for Scottish Ministers, it might risk annoying independence supporters who are geared up for the fight.
Senior figures in the pro-Union camp are now pondering whether Option Three or even Four will emerge as favoured strategies. Launching "Better Together", Alistair Darling speculated along these lines.
To stress again, Nationalist leaders insist that no decision has been taken, that their preference remains for a straight question on independence but that they must heed Scottish opinion if it points in a different direction and that they will not act under duress from Westminster.