Bonuses for Scottish Water chiefs as water quality improves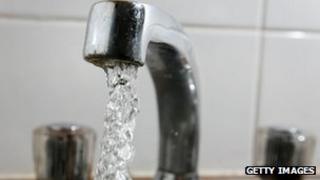 Drinking water quality in Scotland has hit an all-time high, according to Scottish Water's latest annual report.
The document also shows that five senior executives have been awarded bonuses of between £62,000 and £105,000.
The largest bonus went to Chief Executive Richard Ackroyd, who is paid a basic salary of £263,000.
Mr Ackroyd's was linked to the company exceeding its profit target of £400m, by a margin of £2.8m.
The payments appear to flout a ban on public-sector bonuses announced in his budget by Finance Secretary John Swinney.
They were explained in the report.
It stated: "Scottish Water is a performance-orientated organisation. It believes that executive members remuneration should be closely related to corporate performance.
"The aim is to pay a base salary that is as competitive as appropriate within public sector ownership and provides the opportunity for extra discretionary pay to be earned for out-performance of demanding targets."
Water quality
The report claimed significant progress in most areas of the business.
The utility said 99.86% of all samples taken in 2011-12 complied with required water quality standards.
It also reported its highest-ever customer satisfaction level of 83% - 3% above the previous year - and an 11% fall in written complaints.
It said it had achieved "increased value for money" through efficiency, while driving up customer service.
The annual report and accounts, which were laid in the Scottish Parliament, mark 10 years since the publicly-owned utility was formed by a merger of several Scottish water authorities.
Mr Ackroyd said the report was "a record of Scottish Water's 10 years of progress in our drive to become Scotland's most valued and trusted business".
"In the last year we have launched Scottish Water International, which is attracting contracts in partnership in North America, the Middle East and Europe - exporting the skills and expertise gained in the last 10 years," he said.
"The growth of Horizons, our renewable energy and business services company, and its strength in food and waste recycling, is reinforcing our commitment to reducing our carbon footprint and generating our own energy needs to ensure we become a sustainable low carbon generator."
In January, it announced its charges were to be frozen for the fourth year in a row.
The move meant the average annual household charge from April remained at £324 - the same level it was in 2009-10.