Picking over the carcass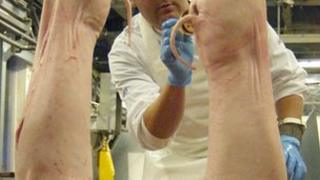 In this country, we've never liked being reminded about the slaughter, blood and guts required to make the link from farm-gate to plate.
US steak houses proudly display pictures of beef cattle to accompany your USDA approved slab of Texan longhorn. It's been tried here, and it failed.
So you may get a bit squeamish about the thought of 7,000 pigs being slaughtered each week a trotter's-throw from the M8, at least if you're anywhere close to consuming a bacon sandwich.
But the fact is that the killing of 7,000 carcasses each week isn't nearly enough. The Hall's plant in Broxburn, now facing closure with the loss of 1,700 jobs, is operating well below half its capacity.
And aged about 30, it's competing with plants on the European continent that are slaughtering and processing upwards of 60,000 pigs each week, with similar staffing levels, better automation and more efficient processes.
Intensive review
It raises the question of whether any meat processing plant in Scotland can compete with that scale. There are, after Hall's in Broxburn, another 10 Scottish processing plants.
And one of them, Freshlink Foods in Glasgow - formerly McKellar Watt - has indicated it is minded to close down as well, followed by relocation, putting 144 jobs at risk.
They could pick up some work as Hall's Dutch owner, Vion, withdraws whole categories of produce from the market, and as it says it's willing to help others pick up where it's leaving off.
But modern processing and scale matters in a business that's driven ever more by price. Vion's problems are a signal to the rest of the industry. It put in new management and investment to turn round its 2008 acquisition of Grampian Country Foods.
Last year, it axed 200 jobs in Yorkshire to transfer sausage production to Broxburn. Yet its Scottish operation appears to be in more trouble than any other part of the vast food firm.
Last month, it announced 600 job losses in the Netherlands and Germany, but an "intensive review of its long-term strategy" found the biggest problems are on this side of the North Sea.
That followed a 53% drop in already weak profits, with 2011 operating profit of only £11m on a turnover of £7.5bn. Its UK division doubled its loss to £36m.
Competitors' efficiency is one of the key pressures bearing down on the West Lothian workers. Pig production costs are going up, notably with foodstuff and fuel.
And at the other end, shoppers are being driven by these austere times towards discounting, cheaper cuts of meat, and, by health concerns, towards white meat.
Supermarket pressure
There have to be some questions of Vion - of how it can move so rapidly into losses of £79,000 per day, and prefer closure to a scaling down from 1,700 staff. If it's all down to increased costs, then the company seems to have done a poor job at spreading risks with the supermarkets and caterers it supplies.
But the pressure goes on. Food producers were last month told Morrison's supermarket group is driving very tough price conditions as it renegotiates and cuts back on its supplier base.
That's because of the fight for market share. So while the task force seeks ways to salvage at least some of the Broxburn plant and some of its 1,700 jobs, it's also for those who do the shopping - the big retailers' customers - to give some thought to the real price being paid for low cost food.