Women athletes fear pressures over appearance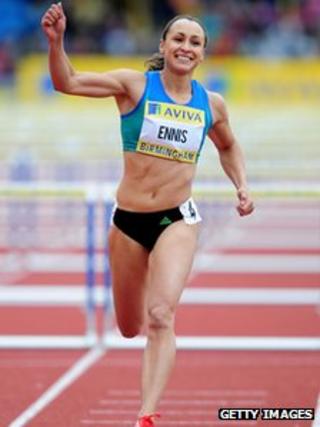 Young women are being put off sport by fears that training will make them unattractive.
Those who do take part report that the portrayal of women in sport, with its emphasis on appearance, puts additional pressure on them.
Athlete Jessica Ennis recently revealed that a senior figure in sport had told her she was becoming "fat".
But why are sportswomen seen as fat, unattractive or just unfeminine?
Dr Katharina Lindner of Stirling University, a former Glasgow City Football Club player, has carried out research into how cinema portrays athletes.
She has known team mates who were concerned about their body shape changing as a result of training.
She said: "Girls want to be good at their sport, but on the other hand a question around their femininity is raised because they are considered too muscular."
Dr Lindner added: "There are issues around eating disorders and body image issues that arise because of that."
Kirsteen Martin and Carol McCluskey of Queen's Park Football Club said they have experienced negative stereotypes at first hand.
Kirsteen explained: "You do get the typical 'mannish' comment... but I try not to let it bother me."
Carol added: "We get encouraged to build our strength up - especially upper body - and that makes you a better player."
'Define yourself'
Sports psychologist Tom Lucas thinks the media could do more to improve attitudes to women in sport.
He said: "I remember Sally Gunnell saying she felt under pressure to wear make-up. Now, I think that's sad.
"You should define yourself as a person first, then an athlete, then your gender if you so wish.
"We need to recognise the individual as an individual and nothing else."
Some studies have suggested that two in five girls refuse to participate in sport because of concerns about their appearance.
Jo Swinson, the MP for East Dunbartonshire, chaired a YMCA report on the issue of how young people see themselves.
It found children as young as five have concerns about body image.
She said: "We have to look seriously at the culture we have, that criticises women and their appearance, which I don't think happens to the same degree with men.
"This is not going to be an easy problem to solve as effectively it is about changing culture."