Scottish housing market 'still flat'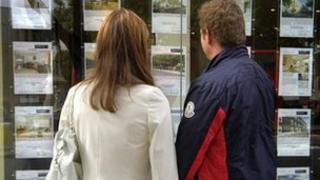 The Scottish housing market remained flat last month, according to a survey by the Royal Institution of Chartered Surveyors (RICS).
Its UK Housing Market Survey reported a fall in new buyer inquiries during June.
Newly-agreed sales in Scotland also fell for the third consecutive month.
And there was an increase in the number of homes going on the market despite the slump on demand, which RICS said could put more pressure on prices.
RICS Scotland director Sarah Speirs said: "The housing market in Scotland failed to turn a corner last month and activity remained slow.
"Despite this, it is unlikely that we will see any real movement until purchasing a property is more affordable and accessible for the likes of first-time buyers."
House prices across Scotland continued to drop last month, with 24% more surveyors reporting price falls rather than rises.
Almost a fifth (19%) of surveyors said they expected prices to continue to fall over the coming months.
Greg Davidson, a member of RICS from Perth-based chartered surveying practice Graham & Sibbald, said: "Uncertainty in the market and general economy continues to make it difficult for purchasers to commit.
"As such, transaction levels have dropped back a touch and there is no particular driver for these to change significantly over the foreseeable future."