Milk price cuts: UK-wide disruption by farmers mooted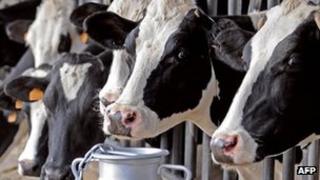 UK milk supplies could be disrupted at the farm gate if prices paid to producers are not reinstated to levels last paid on 1 May, campaigners warned.
Farmers for Action said retailers and processors have until 1 August to renegotiate cuts already made and further proposed reductions.
It had been reported that milk tankers could be blocked from leaving dairies.
Farmers for Action's Andrew Hemming would not comment on blockades, but warned of "severe disruption".
He told BBC Scotland that farmers did not want to be forced down the road of upsetting consumers.
But Mr Hemming added: "The action would be UK-wide.
"Price cuts have taken place over the last two months or so.
"If this money is not reinstated and backdated by 1 August then there will be protests and severe disruption to the supply.
"But we want to make it quite clear that it is not our intention to upset consumers, the most important part of that chain, and we don't want to go down this road."
Mr Hemming added: "For the retailers and processors, the clock is ticking."
Retailers and processors have blamed the cuts on a collapse in the value of cream.
Last week, the Scottish government unveiled an action plan to tackle pricing issues in the dairy industry.
The five-point plan was announced following a meeting between Rural Affairs Secretary Richard Lochhead and NFU Scotland officials.
Mr Lochhead has also called for a summit meeting with UK and Welsh colleagues to be held later this month.