'Major issues' for new Scottish fire service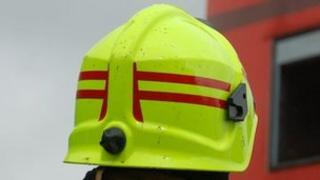 Scotland is facing major challenges in getting its new national fire service up and running, the public spending watchdog has warned.
The eight regional fire and rescue services will be merged next year, in a move to cut costs.
The Accounts Commission said operations had been slow to modernise and councillors on joint fire boards had failed to drive forward change.
The watchdog said Scotland could have a world-class fire and rescue service.
A Scottish government spokesman said the report recognised the "already excellent" services provided a strong foundation to build on.
Scotland's eight police forces are also being combined into a national operation, under a plan to save £1.7bn over 15 years.
A new commission report, prepared by Audit Scotland, said the new fire service would take on areas of strong performance from the existing set-up, but added there was scope for "significant improvements".
The findings also said the number of fires and casualties had fallen in the past decade, but the rate of decline was slower than in other parts of the UK, while the level of house fires and deaths in Scotland was still almost double the rate of England and Wales.
And the cost of fire and rescue services in Scotland, the report added, was significantly higher for reasons which could not be fully explained.
Accounts Commission chairman John Baillie, said: "This is a critical time in the history of the fire service in Scotland.
"There are many strengths from around the country which can be incorporated into the new service. Equally, there are many challenging issues around performance, prevention and staffing which it will also inherit.
"Strong leadership, both nationally and locally, will be needed to deal with the financial pressures facing the service."
Mr Baillie added: "More attention needs to be paid to finding new ways of engaging effectively with communities and the workforce over service changes that will be needed in in the longer term."
The report also said things had been slow to change and that there were "striking" differences between Scotland's eight fire and rescue services, with little agreement on issues like staffing.
Councillors sitting on joint fire and rescue boards, it added, had not provided a strong lead in scrutinising performance or in helping to drive change, engagement with local communities was "patchy".
The government spokesman, said: "Our services are already excellent. Fire deaths are at their lowest level for a decade. Single services will not change that - but they offer us a unique opportunity to do more.
"Our plans for reform will make fire and rescue services more efficient and effective. They will ensure more equal access to specialist and national services for all communities.
"Our new local scrutiny and engagement arrangements can guarantee stronger local relationships - work to achieve this is already underway across Scotland."