Inspectors fine ScotRail £373,000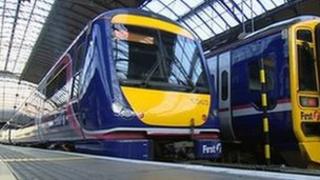 Scotland's national rail provider has been fined almost £373,000 in the past year for failing to meet tough standards on providing services.
ScotRail was told areas like ticketing, train seating and customer information could be improved.
The operator said the penalties levied against it had fallen for the third year in a row, showing steady improvement.
Ministers said the inspection regime was one of the toughest in the UK.
Under Transport Scotland's Service Quality Incentive Regime (Squire) , penalties for the 12 months to 23 June 2012 totalled £372, 849 - down 16.5% on the previous year.
Transport Scotland said ScotRail needed to improve how it dealt with car parks, help points or telephones, ticket vending machines, train seats, on-train destination boards and the seat reservation system.
Despite the criticism, the firm was praised for high standards in cleanliness, onboard ticket inspection and the professionalism of staff.
ScotRail managing director Steve Montgomery, said: "We welcome this third consecutive fall in penalties, which underpins steady progress in performance and tackling the challenges set by one of the UK's toughest regimes.
"There is still work to be done and our focus on standards and investment in stations and on trains to meet customers' needs and expectations will continue."
Scottish government infrastructure secretary Alex Neil said the recently published national passenger survey recorded overall satisfaction at 89%, compared to a UK-wide figure of 84%.
He added: "It is a credit to ScotRail that customer satisfaction remains higher than the UK average but they know they must not rest on their laurels."
Squire inspectors audit about 342 stations and 200 trains every month, with many of the target levels set at 90% or higher.
The current First ScotRail franchise ends in November 2014.
First Group has operated all domestic rail services in Scotland and sleeper services to London since 2004.