'Success' for Chris Hoy mental health scheme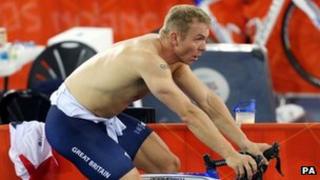 A project launched by Olympic cyclist Sir Chris Hoy to improve mental health through exercise has been deemed a success by the charity behind it.
Hundreds of people with mental health issues got involved in activities ranging from gardening to football, under the Get Active scheme.
The Scottish Association for Mental Health said most of those who took part benefited from the experience.
Sir Chris, an ambassador for the charity, launched the scheme in 2009.
More than 600 people took part and the SAMH, which had the results independently analysed, said 91% of them felt happier, while 81% reported increased confidence.
One participant, Robert Hare, said his involvement in a project run by Street Soccer Scotland helped him address problems in his life, and ended up leading Scotland's Homeless World Cup team to victory in 2011.
"When I went to prison, I lost my home, my girlfriend and my job," he said, adding: "I believed I had hit rock bottom and I had no one to blame but myself.
"I don't know where I'd be in life if I hadn't found this help."
Ian Crawford, from SAMH, said people signed up to Get Active for many reasons.
"Many of those involved were surprised and inspired by the level of impact their involvement had on their physical health, and how much they benefited in terms of their mental health, confidence and outlook on life." he said.
The pilot projects were funded mainly by Long Term Conditions Alliance Scotland and Comic Relief
Meanwhile, the SAMH has launched a new partnership with the Professional Footballers Association, to challenge the stigma surrounding mental health within the footballing community.