'Few' university clearing places in Scotland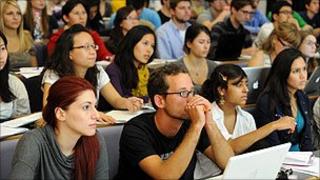 Universities in Scotland are predicting few places for pupils making last-minute bids for courses starting this year under the clearing system.
Clearing, a system run by the university admissions service Ucas, matches students with remaining places.
But admissions officers have said demand outstrips supply for the places, which become available on Tuesday when pupils get their exam results.
More than 160,000 young Scots will get their results on Tuesday.
Traditionally applicants who narrowly fail to secure the Higher passes they needed for their first choice course, can enter the clearing system to try for alternative courses.
But for several years many of the ancient universities have had virtually no places due to some rationalisation of courses and increased demand in Scotland and from other EU countries.
Advice line
Edinburgh Napier and the University of the West of Scotland have some availability as does the University of the Highlands and Islands which has government funding for an extra 1,000 spaces in its many centres.
Skills Development Scotland have set up a dedicated careers advice line, which opens at 08:00 on Tuesday.
Damien Yeates, SDS chief executive, said: "As always our advice is not to panic - making the call is the vital first move in finding out what options are available.
"Often parents or carers call on behalf of their sons and daughters and that can enable family discussions on the best way ahead.
"The helpline is about finding the right path for the individual and we have a wide range of services to help people identify and build successful careers."