Bank of Scotland expert says 'low or no growth'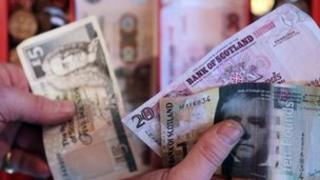 A leading economist has said Scotland faces either a low rate of growth or no growth at all for the rest of the year.
Bank of Scotland chief economist Donald MacRae said businesses had a "challenging" start to the third quarter of the year.
The Bank of Scotland Purchasing Managers Index (PMI) was still positive in July, unlike the UK as a whole.
But the survey showed a slowdown in manufacturing orders, at the fastest rate since December 2010.
New business being placed with Scottish private firms fell for the first time in eight months.
Managers reported prices rising more steeply than was the case across the UK as a whole, while recruitment was continuing at a modest pace, mostly in the service sector.
The PMI includes elements of output and demand, forward orders, backlogs of work, input and output prices as well as recruitment.
An index above 50 indicates growth, and below 50 shows contraction.
The PMI for July in Scotland was 51, down from the June figure of 52.5.
Prof MacRae said: "The July PMI suggests growth in the private sector of the Scottish economy was marginal with a fall in manufacturing output offset by continuing growth in service activity.
"The Scottish economy is struggling to maintain growth momentum in the face of the global slowdown. Low or no growth is in prospect for the rest of 2012."
A Scottish government spokesman responded to the PMI figures: "This is further evidence that the Scottish economy is demonstrating greater resilience than the UK as a whole.
"For the 19th consecutive month, it shows an increase in overall output across Scotland's manufacturing and services sectors, and despite a slowing in expansion of activity, performance in Scotland remains stronger than it is across the UK, where activity contracted."
He went on to call for the UK Treasury to do more to stimulate growth.