Scottish student numbers 'on course' for record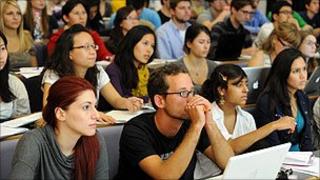 Ministers have claimed a record number of Scots students will gain places at Scottish universities and colleges.
It follows concerns some fee-paying students from England may be given places before their Scottish counterparts.
A total of 22,292 Scottish students have received places so far, a 3% rise from 21,630 the same stage in 2011.
By the end of the application cycle last year 29,075 Scots applicants were accepted at institutions in Scotland.
The application process and clearing process is continuing and the Scottish government said things were on course for a record number Scottish students to start university or college.
However, critics have said the process is "unfair" as the number of places for Scottish students is limited by funding at some universities.
EU loophole
Scottish and EU students are exempt from tuition fees at Scottish institutions.
However, a loophole in EU regulations means that students from the rest of UK have to pay to study in Scotland.
Universities are given set funding for the admission of Scottish and EU students.
Education Secretary Mike Russell told BBC Scotland: "There is an absolute line between those who go paid for by the Scottish government and those who regrettably are part of what is a deeply flawed system south of the border which will not succeed for the individuals and for the system.
"But there is no such competition and indeed the figures tell you that - 86% of places in Scottish universities are held by Scottish young people.
"There's nobody being crowded out from that, quite the reverse."
A spokeswoman for Universities Scotland said demand for places had been high and the expectation was that it could be a good year for student numbers.
A University of Edinburgh spokesman said: "The Scottish Funding Council allocates each university in Scotland a number of funded places for students from Scotland and the EU, and imposes financial penalties should institutions over-recruit against this number.
"The University of Edinburgh intends to fill all of its allocated places for Scotland and EU students this year."
UK figures
Universities and Colleges Admissions Service (Ucas) figures also show that Scotland is the only part of the UK which has seen a rise in university and college admissions.
A total of 35,781 pupils have been accepted to Scottish institutions to date, fractionally up by 244 on this time last year.
Meanwhile, applications to institutions in the rest of the UK are down by almost 8%, from 349,112 at the same admission stage in 2011 to 322,134 this year.
Mr Russell added: "Scotland is the only country in the UK to ensure young people, our workforce of the future, can go to university based on ability, not the ability to pay."
The Scottish Liberal Democrats called on Mr Russell to conduct a review of the clearing system.
Education spokesman Liam McArthur said: "A good place to start would be for the minister to organise a meeting with University Principals, NUS Scotland and the Scottish Funding Council to see what can be done to ensure greater fairness in the university clearing system."