Fall in number of attacks on fire fighters in Scotland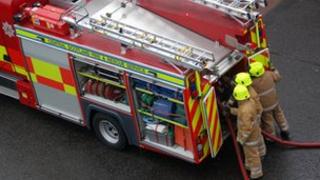 Attacks on fire fighters across Scotland are down by 35%, according to new statistics.
The provisional figures for 2011-12 recorded 112 incidents where attacks on personnel, including verbal abuse, occurred.
That is a decrease of 60 incidents compared with 2010-11. Only one firefighter was injured in an incident.
The statistics, released by the Scottish government, also report on workforce, equipment and safety visits.
Scotland's chief statistician found that between 20011-2012 there was 56,545 home fire safety visits carried out and during these visits 46,395 smoke alarms were installed.
'Fantastic job'
Figures showed this was about 1 visit for every 44 homes in Scotland.
The eight fire and rescue services across Scotland employ just over 9,000 staff, including volunteers - about the same as the previous year.
But the figure is down on two years ago.
The new national fire and rescue service is due to start operations next April. It is expected there will be further job cuts as back-office functions are merged.
Minister for Community Safety and Legal Affairs, Roseanna Cunningham, said: "Scotland's Fire and Rescue Services do a fantastic job protecting the public, whether it is putting out fires or helping to prevent them from happening in the first place.
"These figures demonstrate the service is are taking the importance of fire prevention very seriously.
"But none of us can be complacent. Every house fire is one too many and that is why the Scottish government and fire services continue to work hard educating people about fire prevention measures they can take."