Edinburgh Festival: When can I watch Macbeth?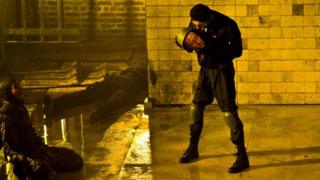 There is a superstition that speaking the name "Macbeth" inside a theatre is to court disaster.
Edinburgh must be a pretty unlucky place at the moment, with people strutting and fretting their hour upon the stage in more than a dozen versions of the "Scottish play".
So, when are you be able to watch Macbeth?
Tomorrow and tomorrow and tomorrow.
It is a Shakespeare joke. Google it.
The English bard wrote his tale of a ruthlessly ambitious Scottish lord who seeks to seize the throne, with the help of his scheming wife and a trio of witches, in about 1606.
But its adaptability and universal themes of power and corruption have led to productions big and small.
There is a children's version, a dance and polyphonic song version, a Macbeth set in World War II and one set in a school.
Then there is an all-female Macbeth, a rock musical, and a Scots language take on the 17th Century tragedy.
Not forgetting the production which takes place on Inchcolm island in the Firth of Forth, a location mentioned in the Shakespeare play, and only accessible by ferry.
The biggest staging in Edinburgh this year was 2008: Macbeth, which was part of the International Festival.
Festival director Jonathan Mills said it was an "incredibly physical, visceral, blood-soaked production" which was presented at the massive Royal Highland Centre "in cinemascope realism".
He said it was "not necessarily" set at Cawdor Castle or Glamis in Scotland but "closer to our times" in somewhere like Libya, Egypt or Syria.
"It is a Macbeth that is entirely authentic to Shakespeare and yet is entirely relevant to our lives today," Mills told BBC Scotland.
"This is very much a play about brutality and ambition that goes to an extreme degree."
The Polish director of 2008: Macbeth, Grzegorz Jarzyna, said: "It was 2004 and I was very influenced by what happened with the Iraqi war and by the pictures the media delivered to us and the Poles being involved in this war, the first time after World War II.
"I came back to Macbeth and started to read it again and I noticed that Shakespeare was describing what was happening nowadays.
"I was very impressed by the method of fighting and thinking which is similar to how it was in medieval times in England and nowadays in the Middle East."
Surprisingly, this is not the only Polish version of Macbeth in Edinburgh.
Teatr Biuro Podrozy performed their Fringe interpretation outdoors in the Old College Quad.
Another of the dozen incarnations of Macbeth on the Edinburgh Fringe was a version in the Scots language.
Mike Duffy - the director of Macbeth in Scots - said: "It is the Scottish play and to hear it in Scots seems obvious."
He said doing a Scots language translation had given it an interesting twist.
Very powerful
Duffy said the play was written for a Scottish king - King James VI of Scotland, who became England's King James I.
"Shakespeare wrote it to please King Jamie, who believed in witches," he said.
Duffy said Macbeth was a classic tale of "downfall".
"It is so relevant to every period and every time. You look around the world today. There are dictators and fascists in the Middle East and Africa.
"You see Macbeths are all around us."
Though Macbeth is a short play, it is very powerful, Duffy said.
"It is full of action, mystery and evil.
"Basically it is a strong story. There is not much deviation. The momentum soon gathers.
"There are murders, everybody loves murders."
Edith Peers, who plays Gruoch, the Lady Macbeth character in the Scots language version, said her character's manipulation of her husband was something which attracted audiences.
"There is a sexual chemistry between them," she said.
"There are reasons that he succumbs to her wishes.
"I don't believe she is just totally evil. She has a goal in mind, she sees an opportunity and goes for it."