Foster's Edinburgh Comedy award shortlist announced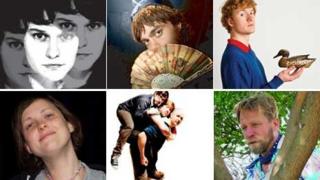 The nominees for this year's Foster's Edinburgh Comedy Awards have been unveiled.
The shortlisted acts include Josie Long, who has been nominated for the third year in a row.
Claudia O'Doherty, Doctor Brown, James Acaster, Pappy's and Tony Law are also nominated for the award, now in its 32nd year.
The winner will be announced on Saturday. Last year's winner was Adam Riches.
The awards, which have been running since 1981, were formerly known as the Perriers and the If.Comeddies.
"Star" names, who have already had a TV series or can perform in a 500-seat venue under their own name, are not eligible for the award.
However, the judging panel did see 536 different shows over the three weeks of the Fringe.
The full list of nominations was:
Claudia O'Doherty: The Telescope
Josie Long: Romance and Adventure
Tony Law: Maximum Nonsense
The shortlist for the Best Newcomer was:
Daniel Simonsen: Champions
David Trent: Spontaneous Comedian
Joe Lycett: Some Lycett Hot
Sam Fletcher: Good on Paper
Awards producer Nica Burns said: "The nominees sum up an extraordinarily inventive year for comedy at this year's Fringe.
"The shows demonstrate all the comedic art forms - standup, mime, sketch and multi-media experimentation.
"The performers are all immensely charismatic and often thought-provoking whilst being extremely funny. Two excellent nomination lists."
The Best Comedy Show prize is £10,000 and the best newcomer wins £5,000.
There is also a panel prize awarded to an act which deserves special recognition.