New funding pledge for Scottish students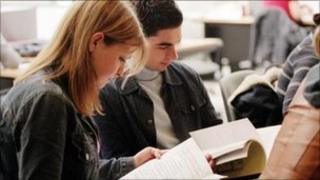 Students from the poorest families will receive a minimum income of £7,250 a year under a funding package unveiled by the Scottish government.
The combination of bursaries and loans will be available to those with a family income of less than £17,000.
The education secretary also announced that all students would be eligible for a £4,500 loan, regardless of income.
Mike Russell added that part-time fees would be abolished for those with an annual income of less that £25,000.
He said Scotland was offering the best student funding package in the UK.
The National Union of Students (NUS) in Scotland said the announcement was a victory for campaigning students.
Scottish students who study north of the border do not pay tuition fees, although they are paid by the 22,000 English students who study in Scotland.
Making the announcement in Glasgow, Mr Russell said: "Scotland is the only country in the UK with free higher education.
"It is the only country to see an increase in the number of young people applying for courses as well as the highest number of students ever accepted into our universities on Higher results day.
"This is tremendous news and a clear vindication of our policy of no tuition fees.
"I am delighted to announce changes which will enhance the offer by ensuring that Scottish students can access the best and most straightforward package of student support in the UK."
The new package will be introduced in 2013.
Scottish Labour's education spokesman, Hugh Henry, said the package of measures was welcome news.
He added: "However, there is still much more that needs to be done to ensure that students from the lowest income households are able to reach their full potential."
The Scottish Liberal Democrat education spokesman Liam McArthur also welcomed Mr Russell's announcement.
However, he added: "For Mr Russell to assert that somehow this means that all is well with the clearing system in Scottish Universities is a remarkable leap of faith. He seems unwilling to listen to concerns that have been raised by parents and pupils in schools across Scotland who are struggling to identify opportunities under current system."
Robin Parker, NUS Scotland president, said: "The announcements are a huge step forward and a victory for years of campaigning by countless students across Scotland.
"We've always said that getting an education should be about your ability, not your ability to pay.
"We need to provide enough support in order to get the most out of our most talented people, and we hope these announcements will do just that."