Scotland's kittiwake population 'still failing to breed'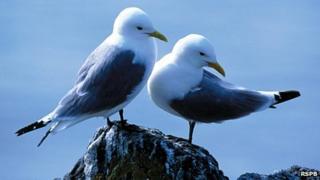 Scotland's internationally important kittiwake population continues to have breeding problems, a report by RSPB Scotland has suggested.
It said one breeding colony was extinct and others were predicted to go within three years.
Numbers have more than halved since the mid 1980s across the UK, and the Scottish breeding population has dropped by almost two-thirds.
The figures come from the RSPB ahead of a full report due in the autumn.
Some of the steepest declines have been in the far north of Scotland, particularly in Orkney and Shetland.
Counts by RSPB Scotland and the Joint Nature Conservation Committee (JNCC) of Orkney's "seabird cities" revealed an 82% decline in breeding pairs of kittiwakes in just over a decade.
Populations on the Orkney mainland fell from nearly 11,000 pairs in 2000 to under 2,000 this year.
'Deeply shocking'
At Mull Head on the Orkney mainland, cliffs were empty this year as kittiwakes failed to return to the colony to breed.
Doug Gilbert, RSPB Scotland, said: "The counts this year are deeply shocking.
"It now appears undeniable that the declines in kittiwake and other seabirds are being driven by changes in the marine environment related to climate change.
"The food chain of the North Sea is being profoundly affected, and seabirds, at the top of the chain, are suffering."
He said: "Seabirds remain largely unprotected at sea and have been marginalised in the identification of new Marine Protected Areas.
"This obvious gap needs to be filled if Scotland is going to prove it is serious about protecting threatened wildlife."