Stuart Goldsmith wins Cunning Stunt award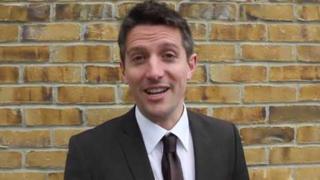 Comedian Stuart Goldsmith has won an award for the best publicity stunt at the Edinburgh Fringe.
Goldsmith won the Malcolm Hardee Cunning Stunt award for his Youtube videos poking fun at the censorship of the title of his Fringe show Pr!ck.
The exclamation mark was added for all official Fringe publicity material, including the festival brochure.
The awards are presented in memory of Hardee, the late "godfather of British alternative comedy".
The comedy awards, which are not sponsored, are described by organisers as representing "the true anarchic spirit of the Edinburgh Fringe".
The award for comic originality was won by The Rubberbandits, an Irish hip-hop comedy duo whose Youtube video Horse Outside got almost 10 million hits.
Malcolm Hardee Award organiser John Fleming said: "Like 2010 award winner Bo Burnham, their work on the internet may mean they break through massively to a worldwide audience."
Mixed race South African comedian Trevor Noah was judged to be "The act most likely to make a million quid".
The judging panel said he epitomised "class" on stage.
"We think he is going to be snapped up and will be playing Carnegie Hall-type venues soon," they said.
'Artistic freedom'
Goldsmith won the Cunning Stunt award for his comic video postings about Fringe censorship.
Edinburgh Festival Fringe Society announced in May that show titles and descriptions should be "suitable for readers of all ages".
Asterisks and exclamation marks were used to tone down offensive language in the brochure and online.
Comedian Richard Herring was one of several performers to publicly condemn the changes.
He claimed it would have "serious repercussions" for "artistic freedom at the greatest arts festival in the world".
Before the Fringe, Goldsmith, who was nominated for a Chortle comedy award last year, said the changes could cause him to lose ticket sales.
He said the addition of an asterisk would mean no results would be returned on the festival website if a search was conducted using the show's original title.
As well as his censorship video, Goldsmith also said he would donate £1,000 of his own money to the Waverley Care HIV charity but would deduct £100 from this every time a critic used a pun on the word 'prick' in their review.