Former Liberal Democrat MSP Donald Gorrie dies aged 79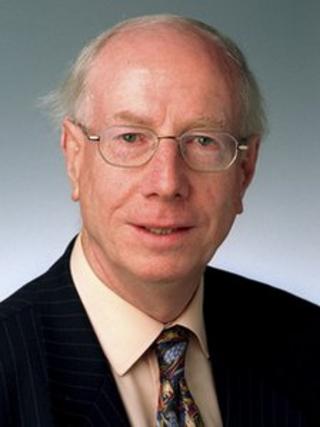 Former Liberal Democrat MP and MSP Donald Gorrie has died aged 79.
Mr Gorrie represented central Scotland in the Scottish Parliament from 1999 to 2007, and represented Edinburgh West as an MP before devolution.
He was a fierce critic of the Holyrood building project and his party's coalition deal with Labour. He also called for tougher alcohol laws.
The politician had been ill for some time. He leaves behind his wife Astrid and two sons.
Mr Gorrie served for many years as a councillor in Edinburgh before becoming an MP and later an MSP.
He proposed anti-bigotry legislation before this became a mainstream concern of government.
His former parliamentary assistant, Hugh O'Donnell, who succeeded him in parliament said: "Donald Gorrie was my mentor, my friend and my guide.
"He will be sadly missed by those who respect a politician and a man of independent character and principle".
Scottish Liberal Democrat leader Willie Rennie him described him as "a highly effective councillor and parliamentarian" and said he "revelled in the battle for fairness, opportunity and justice".
He added: "With a liberal backbone made of steel Donald Gorrie dedicated his life to challenging the establishment.
"Donald was never afraid to be a lone voice and his boundless energy was evident throughout his 36 years of public service.
"The Liberal Democrats will forever be grateful for the life of Donald Gorrie. We will miss him. Our thoughts are with his wife Astrid and his family."
First Minister Alex Salmond said Mr Gorrie was a "widely respected member of the Scottish Parliament who made a substantial contribution in its early days".
He added: "He was a man of independent mind and spirit who was willing to champion minority causes. He will be sadly missed."
On Twitter, former first minister Lord McConnell said: "Very sad to hear that Donald Gorrie has died. A true parliamentarian, and a real ally fighting bigotry and injustice."
Scottish Labour leader Johann Lamont said: "We didn't always agree but I admired his determination to stick to the principles which led him into public life. He will be missed."
Dave Scott, of anti-sectarianism charity Nil By Mouth, also paid tribute to Mr Gorrie.
"Donald was a great champion of our cause and we would extend our deepest sympathies to his family and friends," he said.
"He steered tough and effective legislation through Holyrood which has subsequently seen over 2,000 people convicted for sectarian behaviour; ensuring justice for their victims and highlighting the scale of the problem."