Minehunter HMS Pembroke returns to Clyde naval base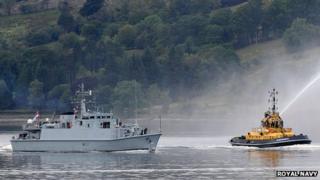 The Scottish minehunter HMS Pembroke returned to the Clyde naval base on Friday, following a three-year mission in the Arabian Gulf.
The Royal Navy said the ship had been at the forefront of its mine detection capability in the region, where it has been working closely with multi-national forces.
The vessel set off on its journey home to Faslane from Bahrain five weeks ago.
The returning crew had been operating the ship for nearly eight months.
The Navy said they had been working and living in "some of the most challenging conditions imaginable".
About 100 friends and family of crew members were expected to welcome the vessel at its home port - from where it was first launched in 1997.
HMS Pembroke has been involved in operations, training and exercises in the Gulf since 2009.
And the vessel was also called on during her transit home, to guard a merchant ship against piracy in the Gulf of Aden.
The Delhi Express vessel had put out an urgent call for help after suffering engine problems in waters targeted by pirates. HMS Pembroke responded and together with her sister ship HMS Middleton, they guarded the merchant ship until it was mobilised again.
HMS Pembroke is one of seven ships that make up the First Mine Countermeasures Squadron at Faslane naval base in Helensburgh.
Its main role is to clear hostile waters to allow larger ships safe passage.