Scottish food parcel requests double in a year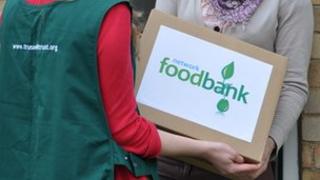 Benefit delays and welfare reforms are driving a rising need for food parcels, according to Citizens Advice Scotland.
CAS, which refers people to food banks if they struggle to feed themselves, reported that double the number of Scots were asking for help in a year.
It said about half of those asking for help had experienced problems with their benefits. Other factors include redundancy, debt levels and food costs.
Nearly 3,000 people in Scotland have so far received food parcels since April.
The Trussell Trust operates six food banks in Scotland, with more due to open by the end of the year.
Trussell Trust officials north of the border have this year begun to compile figures on the number of people accessing food parcels.
While it is not possible to compare the level of assistance with last year, those working on the front line have reported a significant increase in recipients.
Ewan Gurr, manager of the Dundee food bank (the largest in Scotland), said 1,188 people were given food parcels between April and September.
He said more than 60% of recipients sought help because of benefit delays, but other reasons included redundancy and low incomes which cannot cover rising food costs.
The charity Oxfam has reported that food costs have risen by 30.5% over the past five years.
Mr Gurr said some people asking for help have large mortgages, and paying them as well as covering energy costs and feeding the children were a higher priority than feeding themselves.
He said some parents using the food bank were even suffering from malnutrition.
'Turn the tide'
Trussell Trust director Chris Mould said: "The trust welcomes this report from Citizens Advice Scotland, which highlights a serious problem.
"The Trussell Trust foodbank network, with over 250 foodbanks around the UK, is under huge pressure to respond to the thousands of people thrown into crisis as a direct result of change and uncertainty about the support they receive from the welfare system.
"More and more people are falling through the cracks and urgent policy action is required to turn the tide."
Citizens Advice Scotland helped clients make more than 2,200 applications for charitable support in 2011-12, mainly for food but also for other essentials like electricity. That's twice the figure for 2009-10.
The CAS report said: "Evidence from Citizens Advice Bureaux and food banks suggest that problems and changes in the benefits system are the most important factors.
"A number of welfare changes are causing claimants to need food parcels, including changes to the social fund, Jobseeker's Allowance sanctions and the sickness benefit reassessment.
"With recent changes in tax credits and future changes to Disability Living Allowance and housing benefit, we expect the number of Scottish Citizens Advice Bureaux clients that require food parcels to increase further."
'Dickensian situation'
CAS chief executive Margaret Lynch said: "The report reveals a Dickensian situation facing many of Scotland's low paid workers and people who rely on welfare benefits.
"The national minimum wage has failed to keep pace with the massive increase in food prices over the last five years, leaving many low income families facing food insecurity.
"The fact that 50% of those getting food parcels are working is shocking. The fact that the remaining 50% who rely on food parcels do so because their benefit payments are delayed or because of changes to their benefits entitlement is both avoidable and disgraceful."
She added: "Sadly this indignity is about to be inflicted on many more of our fellow Scots as welfare changes begin to bite.
"The welfare state was set up to provide a safety net from cradle to grave. The safety net has been withdrawn and the task of feeding the poor once more falls to the churches and charitable organisations whose philanthropy once helped to feed the poor of the industrial revolution."