Bloody Scotland celebrates Scottish crime writers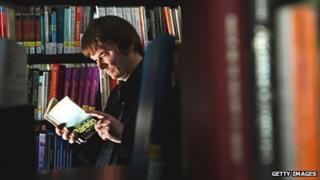 Next to the tall, black railings hugging the gardens stands a smartly dressed woman - apparently ordinary, but with murder on her mind.
She is crime writer Alex Gray, whose new book 'A Pound of Flesh' begins on a very hot summer's night in Glasgow, not far from Blythswood Square where she is telling me about Bloody Scotland.
It is Scotland's first international celebration of crime writing and Gray is its co-founder.
The 62-year-old Glaswegian says she was attracted to the genre because it "makes sense of the world around us".
"We can give closure to the kinds of crimes we create, which doesn't always happen in real life and it's very satisfying to a reader," she says.
Crime fiction, according to the website and magazine, The Bookseller, remains one of the biggest and most reliable sectors of the book industry.
You did not have to be a Rebus to find evidence of that on display recently at a Glasgow bookshop, where crime aficionados gathered with an excited hum for the launch of the new novel by Caro Ramsay.
"The blood and gore doesn't worry me," one woman says
"It doesn't give me nightmares because you know that, eventually, it comes to a good ending."
"I like the structure of them," adds her daughter.
"You start off thinking, oh that would never happen and then you think, 'well, maybe it did', and that's quite scary."
Ramsay, a Glaswegian author who specialises in police procedurals, turned to writing during an extended stay in hospital, juggling it with life as an osteopath and acupuncturist.
She is part of a wide range of Scottish crime writing talent, which includes Ian Rankin, Quintin Jardine, Denise Mina and Val McDermid.
There is even a label - "Tartan Noir."
So why are Scots apparently so good at crime writing?
Ramsay has her own theory which centres on possible depression over the weather, football and putting up with Scottish men.
"I do think there's a hardness about the people," she says, warming to her theme.
"There's a hardness about the land. It's the same reason that Scandinavian fiction sells so well. We do not do cosy."
Ramsay adds: "Germany, Holland, Russia, all the Scandinavian countries, they just lap up crime fiction and publishers in these countries will each have a Scottish crime writer in their stable."
Indeed there is even foreign academic interest in Scottish crime writing.
Earlier this year in Germany, the University of Gottingen hosted a conference on the subject.
Papers included "Age of Devolution, Age of Retirement: John Rebus and Ageism" and "Crime Writing - Scotland's Cultural Export".
One of the conference organisers, Kirsten Sandrock, said Scottish crime was enjoyed in Germany for a number of reasons.
"Traditionally I would say it has been the vastness of the landscape that appeals to people in Germany," she said.
"We thought there was a difference between the traditional appeal and the modern Scotland which contemporary Scottish crime writing now conveys, much more the multi-cultural tradition and also the problems that are there in Scotland today."
Police procedural
Tartan Noir, as a label does not please everyone, but it has proved useful as a marketing tool, both at home and abroad - an accessible way to find out about Scotland.
Dr Thomas Christie, who has just completed his PhD on popular Scottish fiction at the University of Stirling, puts Tartan Noir as part of a long tradition of Scottish writing.
"The work of Ian Rankin is replete with references to Burke and Hare and the like and then we're also lucky enough to have the Gothic tradition," he said.
"Scottish crime writing owes a lot to the American police procedural, the hardboiled detective, but updated for a modern Scottish audience .
"It also includes elements of European detective fiction in that it isn't scared to look carefully at social phenomena."
One of the best known of Scotland's crime writers is Christopher Brookmyre.
Usually thought of as a satirical or humorous novelist, his recent books have been more serious in tone.
He grew up reading and watching, mainly American crime fiction, but always thought these were themes which would translate.
"I always thought these are stories that could be told in Scotland, with our dialect, with our slang, our attitude, I thought that lent itself to the genre.
"A lot of it comes down to language for me. Glasgow especially there's a sort of streetwise dialect that informs the whole point of view, the attitude of the city, that lends itself very well to crime fiction.
"Whereas you can't really imagine anyone trading one liners with a rural Cornish accent for instance."
The Bloody Scotland Festival is being held in Stirling from 14 to 16 September.