Children's pocket money falls 8%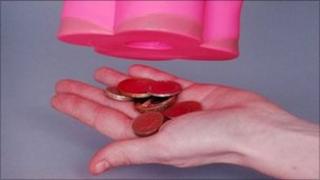 The average amount of weekly pocket money given to children in Scotland has fallen by 8% to £6.32, a survey by Bank of Scotland suggests.
The survey showed that 86% of eight to 15 year olds received weekly pocket money, which was higher than the UK average of 77%.
Scottish children received 34p more than the UK average of £5.98, although London children got the most (£7.34).
About 1,100 children were surveyed, 110 of whom were in Scotland.
The survey found 62% of Scottish children saved at least a quarter of their weekly pocket money, just below the UK average (67%).
Across the UK, the findings also revealed a gender gap, with more boys (71%) saving at least a quarter of their pocket money compared to girls (65%).
Girls also receive an average of 37p a week less than boys (£5.79 to £6.16) which amounts to £19.24 less over a year.
Bank of Scotland economist Nitesh Patel said: "It is encouraging to see that almost two thirds of children in Scotland are still saving at least a quarter of the money they get despite the fact that amount of pocket money they receive has fallen.
"Pocket money is often the first opportunity children have to manage money and it gives them valuable insight into the benefits of both short and long term saving."
The amount of pocket money children across the UK get reached its peak in 2005 at £8.37 a week.
However, the average has risen by 529% over the past 25 years.
In 1987 a week's pocket money would have bought five Cadbury's Twirl bars.
Children can now buy 10 bars a week with their pocket money.