Malcolm Fraser leads town centre revival action group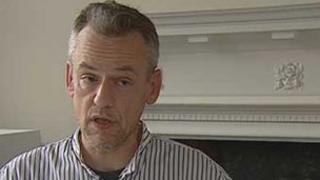 A leading Scottish architect is to spearhead a national initiative to help revive the country's town centres.
Malcolm Fraser will chair the Scottish government's National Review of Town Centres, starting this month.
The panel of experts will try to tackle issues around planning, rent and rates, competition and empty properties.
Deputy First Minister Nicola Sturgeon said the nation's town centres were "vital to the economic and social fabric of Scotland".
The Scottish government said that while progress had been made, current estimates suggested more than 20,000 commercial properties across Scotland were lying empty.
Ms Sturgeon said: "We want to take every measure possible to ensure our high streets are vibrant places where local people want to spend their time and money.
"In 2009 we awarded £60m to 66 projects through our Town Centre Regeneration Fund, creating nearly 1,000 jobs.
"The review will build on this significant investment.
"With Scotland's high streets facing a range of challenges, we are eager to ensure that they continue to thrive and flourish to meet the needs of future generations."
Mr Fraser said many town centres were struggling.
He added: "This is not just a matter of nostalgic regret - their integrity, liveability and neighbourliness provide Scotland with its creative and business focus.
"They are our true 'eco-towns', whose health is also critical to the government's low-carbon agenda.
"I like the wide-ranging brief this review has - it encourages us to examine a wide range of changes and initiatives to lever positive change."
Andy Willox, Scottish policy convener for the Federation of Small Businesses, said the organisation looked forward to being part of the group.
"If we want to turn around our towns, then considered action from local and central government, private and public sectors will be required," he said.
"Independent retailers should always have a place in our communities but we should also consider other ways of bringing employment and enterprise into the centre of our conurbations.
"What we do know though is that the future of our high streets doesn't lie in the models of the past.
"Our shopping habits, living and working habits have changed for good."