Rangers tax tribunal verdict to be announced 'in October'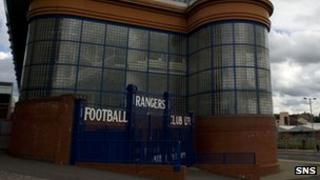 BBC Scotland has learned that a verdict on the First Tier Tax tribunal between Rangers and HM Revenue & Customs is expected in October.
In 2010, the previous owners of Rangers contested an unpaid tax bill relating to the use of Employee Benefit Trusts, believed to be in the region of £49m.
The club entered administration in February 2012 over a separate tax issue and applied for insolvency in July.
HM Courts and Tribunals Service said an announcement would be made next month.
During the period 2001-2010, the previous owners of Rangers operated an Employee Benefit Trust scheme that HMRC claims was a tax scam, which subsequently became known as the "Big Tax Case".
The scheme provided £47.65m in payments to players and staff in the form of tax-free loans, but HMRC insists it has proof in the form of documents and emails that the payments were contractual in nature, which would make the scheme illegal.
HMRC subsequently issued Rangers with a bill for £35m in unpaid tax and interest, and £14m in penalties. That was challenged by the club at the Court of Session in Edinburgh, but no verdict has been announced.
BBC Scotland has also seen evidence, which was submitted to the courts, suggesting that 53 Rangers players and staff had side-letters giving undertakings to fund their sub-trusts with cash.
According to the Scottish Football Association's registration rules, payments received by a player solely relating to his playing activities must be fully recorded and declared, otherwise the player has been improperly registered.
SPL investigation
The Scottish Premier League is also conducting an investigation into payments made to players during the period under scrutiny. However, the owners of the new company in control of Rangers have refused to co-operate with the inquiry.
The SPL has more than a dozen sanctions, including stripping Rangers of league titles, at its disposal should it be decided that the club broke rules about side payments made to players.
On Tuesday, Rangers chief executive Charles Green claimed "more than two" Scottish Premier League clubs had used employee benefits trusts, but did not provide further information as to which clubs he was referring to.
In the course of an investigation into Rangers' EBT scheme broadcast in May, BBC Scotland wrote to all 12 SPL member clubs, inquiring about any use of similar schemes.
Celtic confirmed that the club established one EBT in 2005, but the remaining 10 clubs insisted that they had never made use of EBTs.
The SPL released a statement confirming it had investigated the solitary EBT at Celtic and that the matter required no further examination. It also encouraged anyone with information regarding the use of EBTs at other clubs to come forward.
Rangers entered administration on 14 February and formally applied for insolvency in July after a Company Voluntary Arrangement proposal to rescue the club was rejected by HMRC.
The club's assets were sold off to a cosortium led by Mr Green, but an application to transfer its membership of the SPL to the new company was refused.
An application was then made to join the Scottish Football League, and Rangers started life in the Third Division at the start of the 2012/13 season.