EIS teaching union defers decision on ballot over pension changes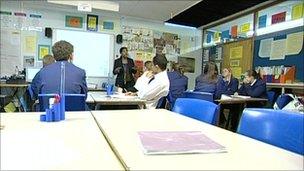 Leaders of Scotland's largest teaching union have deferred a decision on whether to ballot for industrial action over pensions.
At a meeting near Stirling to discuss proposed changes in a bill published this week, the EIS decided to seek talks with the Scottish government.
Scottish ministers have room for manoeuvre over some aspects of the Westminster proposals.
Unions in England have already revealed plans for action short of a strike.
The pension changes could see some teachers working until their late 60s.
The UK government has said reform is needed due to the cost of funding retired workers who are living longer.
EIS leaders said it was inconceivable staff should be in the classroom when they are approaching 70.
Negotiations on pensions are also pending with the Scottish government.
Leaders of other public sector staff such as civil servants and doctors have also pledged to campaign against pension changes.
The EIS's executive committee was considering the next steps in its campaign to defend pensions at the special meeting at Airth Castle.
General Secretary Larry Flanagan said: "Scottish teachers simply will not accept the UK government's plans to force them to stay in the classroom until the age of 68 or even later.
"Teaching is an extremely demanding profession, both physically and mentally, and it is simply inconceivable that teachers should remain in charge of classes of up to 33 pupils until they are almost 70 years of age."
Related Internet Links
The BBC is not responsible for the content of external sites.