Plan to tackle criticism of new Scots curriculum and exams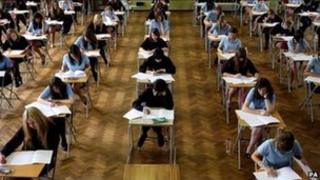 Measures will be introduced to tackle criticism of the new school curriculum for excellence and exam system, the Scottish Education Secretary has said.
Mike Russell insisted Scottish exam reform will prove to be a success while predicting that radical English reforms would "end in tears".
Critics have said the Scottish reforms were too vague.
Mr Russell said more sample lessons are to be provided as well as a detailed account of how the new exams, called National 4 and 5, differ from the Standard Grade exams they will replace.
The changes are due in two years time.
In England, Education Secretary Michael Gove has said the new Baccalaureate qualification due to replace GCSEs in 2017 will mean "truly rigorous exams, competitive with the best in the world and making opportunity more equal for every child".
Asked about the plans in England, Mr Russell said: "In Scotland we have had a long term process of change that has involved everyone.
'Chances limited'
"We've involved employers, trade unions, it's been a cross-party consensus and has it has been a 10-year long process.
"I think if you try to change an exam system in a couple of years without essentially consulting people then it is going to end in tears."
Offering details on change in Scotland, he added: "If you don't have that careful approach then unfortunately there will be young people who find their chances limited."
Mr Russell was speaking at the Scottish Learning Festival in Glasgow after making a speech on education change.
Under the new curriculum in Scotland, teachers have freedom to make up their own lessons.
However, in some surveys teachers have indicated the pendulum may have swung too far and they are often unclear what they should be doing.