BBC Sports Unsung Hero in Scotland search begins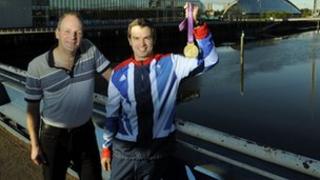 Olympian Tim Baillie has launched the BBC Sports Unsung Hero Award to honour individuals working in grassroots sport across Scotland.
He won a gold medal with Etienne Stott in the two-man C2 canoe slalom at London 2012.
He joined his own unsung hero, Alan Meikle, to launch the award at BBC Scotland's Pacific Quay in Glasgow.
Nominations are open until 29 October. Athletics coaches Janice Eaglesham and Ian Mirfin won the award last year.
Baillie, from Aberdeenshire, said his own coach had played a key part in his career.
"Alan is an inspiration," he said.
'Eskimo roll'
"He is hugely enthusiastic and passionate about the sport - he would never appear to be tired at any time.
"He was very good at hammering his messages on where I could improve."
One of the priorities they worked on was in avoiding hitting poles.
"Training took place on the River Don in Seaton Park, Aberdeen, where there were some permanent slalom gates and we also did some training on the River Dee just up from the harbour," said Baillie.
"One of Alan's big things then was that you definitely should not hit poles in training.
"For every gate I hit I would have to do an 'eskimo roll' at the end, which was a pretty severe punishment in those waters, particularly in the depths of winter!
"There was no shirking when you worked with Alan."
Nominations for the BBC Sports Unsung Hero Award 2012 should be made for people who "go the extra mile" to change the lives of others.
They can be made using a printable form available online or via a low-cost phone number 0845 308 8000 to request nomination forms.