Poor harvest 'set to hit food prices'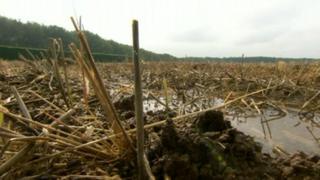 Food prices are set to rise after a summer of wet weather hit harvests, Scottish farmers have warned.
The National Farmers Union said the crucial wheat harvest was down by almost 20% in Scotland compared with last year.
Shoppers will also be affected by higher prices for other crops, with global grain costs hit by a US drought and Russian heatwave.
Poor UK harvests also mean smaller than normal fruit and vegetables.
The NFU's Scottish cereal survey indicated wheat yield was down by 18% from 2011, winter barley yield down 7%, spring barley yield down 18% and winter oilseed rape yield down 26%.
Bob Carruth, from NFU Scotland, told BBC Scotland's Good Morning Scotland programme: "We're going to have fewer tonnes of grain in Scotland, I think all those tonnes will be needed.
"We have some key end users in Scotland and that's people like our whisky industry, beer distilling, baking and animal feed."
The organisation also noted that the harvest in Scotland had been so delayed by the weather that in some parts of the country it has yet to be completed.
Supply and demand
Allan Bowie, who farms near Anstruther in Fife, said he was trying to salvage his potato crop after heavy rains bogged down the soil.
He said: "Having done digs through the summer I know that it won't be the size that we're looking for but I think if we can market what's there well then we should be okay, but it certainly will be a 50% yield drop in particular fields.
"It's a slower operation as well in lifting, so the operating costs will be more. So we're looking at a price increase - that's because of supply and demand, it's just because the crop is not there.
"Mother Nature this time round has worked against us and there is nothing we can do. Imports are just as expensive, so the consumer in this particular case is looking at increased costs."
The global price of wheat has also risen by some 30% over the past 12 months, adding to fears over rises in food prices.
Food waste
Richard Dodd, of the British Retail Consortium, said: "Whilst retailers are certainly doing all they can to protect customers from the full impact of that, of course some of that inevitably will impact on shop prices."
Leigh Sparks, a professor of retail studies at the University of Stirling, said: "You've got the short-term weather impacts of the summer we've had in Scotland and the rest of the UK, and the global issues going on in terms of drought in America, some problems in terms of Russia wanting to keep much of its product as well, and also population growth.
"So all of those put pressure on the cost of production, on the production itself and the likelihood therefore is that prices are going to come under pressure over the next few years."
He added: "I think all the pressures are suggesting that fresh food is going to go up in price.
"One of the things I think consumers will have to think about quite carefully is the amount of waste that occurs, because many of the figures suggest that a lot of products that are bought in supermarkets do end up in waste."