Scotland 'attracting graduates'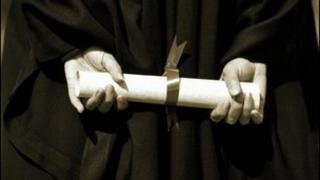 Scotland is maintaining a "relatively strong and diverse" graduate jobs market, according to new research.
The Higher Education Careers Services Unit (Hecsu) said 12,700 graduates started their careers in Scotland this year - some 7.8% of the UK total.
This was higher than the 6.3% of new graduates who were originally from Scotland.
The average starting salary for a graduate in Scotland was £20,509, the highest in the UK outside London.
Hecsu's What Do Graduates Do? study examined the destinations of 244,680 first degree graduates in January 2012 - six months after they left university.
According to the research, the employment rate for new graduates across the UK remained relatively stable at 61.8%, compared with 62.2% in 2011.
This indicated that career prospects were better than feared despite a weakening economy and further job losses from public spending cuts, researchers said.
Some 21% of graduates started their career in London, with a further 12% in the south east of England.
Particularly untrue
The north west of England was third on 11%, with Scotland's 7.8% the fourth highest in the UK.
The percentage of unemployed new graduates in the UK was 8.6% this year, a marginal change from last year's 8.5%.
Across the UK, graduates could expect an average starting full time salary of £19,935.
Charlie Ball, deputy research director at Hecsu, said: "The figures show that jobs are not spread equally around the UK, nor can everyone move to any part of the UK in search of a job.
"There is often a perception that 'all the jobs are in London' and this is clearly not true, nor is the claim that there aren't any jobs for graduates in other parts of the UK.
"This is particularly untrue for Scotland, which still maintains a relatively strong and diverse graduate jobs market, albeit one quite concentrated in Glasgow, Edinburgh and Aberdeen.
"Even in difficult times, graduates can and do get jobs in Scotland. Students need to prepare for a difficult jobs market, and need to be sensible about their ambitions if they hope to work in particular parts of the country.
"Not every industry has lots of opportunities in every part of the UK. But there are jobs for graduates out there, so don't give up hope"