Group to assess Scottish island renewables progress and charges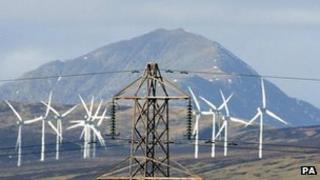 The speed of progress of renewable projects on Scottish islands and the issue of transmission charges is to be studied by a steering group.
UK Energy and Climate Change Secretary Edward Davey announced the group, in conjunction with the Scottish government.
Mr Davey said: "I recognise there are concerns about the speed of progress of renewable projects on the islands."
The first meeting of the new group is planned for the start of November.
Mr Davey said: "The Scottish islands are blessed with tremendous tidal, wind and wave renewable resources and we should look to fully utilise this huge potential where we can.
"This study will assess the commercial viability of renewable projects and the overall value for money these projects provide for the UK.
"I have been very impressed with the wind and marine developments I've seen this week during my visits to Shetland and Orkney and it is important everything is being done to speed up progress where possible."
Orkney Islands Council welcomed the announcement.
Convener Steven Heddle said: "The proposed transmission charging regime would have a serious impact on the viability of the commercial deployment of wave and tidal technologies in our local waters.
"In conjunction with HIE and the councils in Shetland and the Western Isles, we are making considerable efforts to prevent this unfair burden being placed on renewable energy projects in our communities."
Industry body Scottish Renewables has previously warned that charges in the Pentland Firth and Orkney Waters Marine Energy Park have climbed despite an independent review by regulator Ofgem.
Scottish Renewables claimed the annual grid costs could increase from £56m last year to £107m in 2020.
It has called on the UK government to adjust transmission charges.