SPL clubs 'expect to lose money'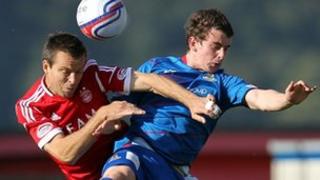 Most Scottish Premier League clubs expect to lose money during the current season, according to the latest survey of the industry.
Accountants PKF raised particular concerns that most clubs depended on their main shareholder to cover losses.
They said that could lead to sudden financial upheaval, bringing change and instability for the whole game.
The financial gulf between the top flight of football in Scotland and England is widening, they added.
That meant Scottish clubs were losing ground in the ability to pay for top players.
The survey is based on interviews with 62 finance directors of British football clubs. Only six of them were with those in the SPL, and the report does not identify which ones.
The interviews were carried out before Sky TV renewed its contract to screen SPL matches, when the absence of Rangers from the SPL was seen as a threat to the previous deal.
That was the finance directors' main concern at the time, followed by falling gate receipts, inflexible player salaries and difficulty in attracting sponsors.
Only one of the six said the club's finances were healthy, and four out of six expected to shrink the playing squad this season.
PKF said the absence of Rangers was heightening financial concerns, although presence of the Ibrox team in the third division should help the finances of some of Scotland's smaller clubs.
Charles Barnett, head of PKF's football industry group, commented: "There is clear evidence that clubs are absorbing some of the financial lessons of the last decade and are reducing wages to turnover to ensure they operate within a manageable ratio.
"However, it is also equally clear that players and their agents may not have absorbed this lesson and are continuing to demand wages which are untenable for the majority of Scottish clubs."
He went on: "The result is likely to be a widening gap between the wages players are paid in Scotland compared to their English counterparts.
"This will have worrying ramifications for the future development of Scottish football as it is unlikely SPL teams will attract top players in the same way as clubs in England which will, in turn, widen the gap between wages in Scotland and England.
"Furthermore, as long as teams are heavily dependent upon the largesse of owner and shareholders then they will be vulnerable to potential sudden financial upheaval and change which is not helpful in growing a stable, secure base for Scottish football."